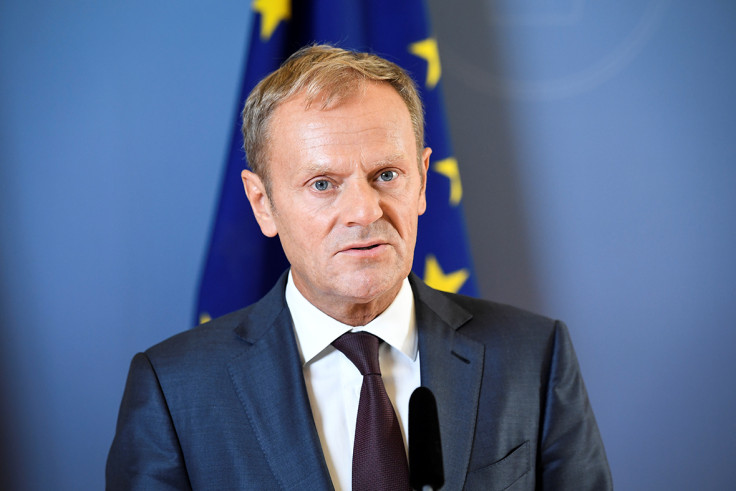 Poland stood in isolation at the EU Summit in Malta as it sought to block the re-election of European Council president, former Polish prime minister Donald Tusk.
The two-day summit starting on 9 March sees the 28 leaders of the European Union, including British Prime Minister Theresa May, discussing pressing issues facing the union, such as the impending Brexit, but the Polish government challenged Tusk's re-election. It failed, as Tusk was re-elected for a two and a half year term.
Tweeting from his personal account, Tusk wrote in Polish: "Thank you for holding thumbs and heartfelt support. It helped! ❤" just after the vote was held.
His institutional account instead showed a post written in English: "Grateful for trust and positive assessment by European Council. I will do my best to make the EU better."
Tusk ruled Poland between 2007 and 2014 in the centre-right Civic Platform party. He is ensnared in a bitter rivalry with the ruling Law and Justice party.
Party leader Jaroslaw Kaczinski said in 2012 he held Tusk "politically" accountable for the death of his twin brother, then Poland's president Lech Kaczynski, who was killed along with other 95 people in a plane crash in Russia in 2010.
"In the political sense you bear 100% responsibility for the catastrophe in Smolensk," Kaczynski told Tusk during a parliamentary session.
The nationalist government led by Beata Szydlo proposed Polish Member of the European Parliament Jacek Saryusz-Wolski as a replacement for Tusk, and said nothing should be decided without the country's stamp of approval.
"Nothing without us, without our consent," Szydlo said upon arrival for the summit. "This is a matter of principles." Foreign Minister Witold Waszczykowski threatened to veto the summit's conclusions to oppose Tusk's election in an interview to Polish television reported by the BBC.
But EU leaders this afternoon confirmed Tusk for another term as European Council president.
Maltese Prime Minister Joseph Muscat, who holds the rotating seat of the EU presidency and who oversaw the vote for the council president, said there was overwhelming support for another term for Tusk, whose current term expires on 31 May. "One country cannot block a decision. There are very clear rules of engagement and rules of procedure that we will follow," Muscat said.
Support for Tusk was also voiced by German Chancellor Angela Merkel and French president Francois Hollande, who see in a vote for Tusk a vote for continuity and stability. "I don't see how one country could oppose this solution when all the others are in favour," said Hollande as he arrived for the summit, quoted in the Associated Press. Hollande said that "with a Europe that has to affirm its unity, a Europe that needs to be firm in the face of a certain number of pressures it faces, there is every reason to confirm here the nomination of Donald Tusk."
Even Poland's closer political allies, like Hungarian Prime Minister Viktor Orban, wanted Tusk. Lithuanian President Dalia Grybauskaite said: "We don't want to become hostages of national politics inside Poland."
The presidency of the European Council is a prestigious role involving chairing summits, coordinating the work of the member countries and representing the 28 member countries with one voice on the international stage.