A BBC comedy sketch show called The Real Housewives of Isis has sparked controversy after being slammed by viewers for being "distasteful" and offensive.
The programme is a satire of the US series about the lives of a group of wealthy housewives in numerous locations from New York to Beverly Hills and the more recent Cheshire – the UK's version of the hit show.
But it would seem that mocking the families of Isis members is a step too far, in terms of many viewers' opinions. The show has so far involved Muslim women taking selfies while wearing suicide vests, while one character cries over her husband cheating on her as he "won't stop talking about his 40 virgins," referencing what suicide bombers are promised in paradise.
BBC2 promoted the show on their official Facebook page on 3 January and – despite posting numerous clips since – the controversial video is still receiving large amounts of comments.
One Facebook user replied with: "This is absolutely Disgusting BBC Two!!! Mocking what happens to the poor innocent people these sick scumbags blow up!!! I'm ashamed!!!! How dare you spend my licence fee on this atrocious programme!" as another wrote: "This is just really bad. I get what they're tying to do but it's too much of a sensitive topic. People are still dying and starving everyday and i just don't think it's clever to make humour out of something so awful and ongoing..."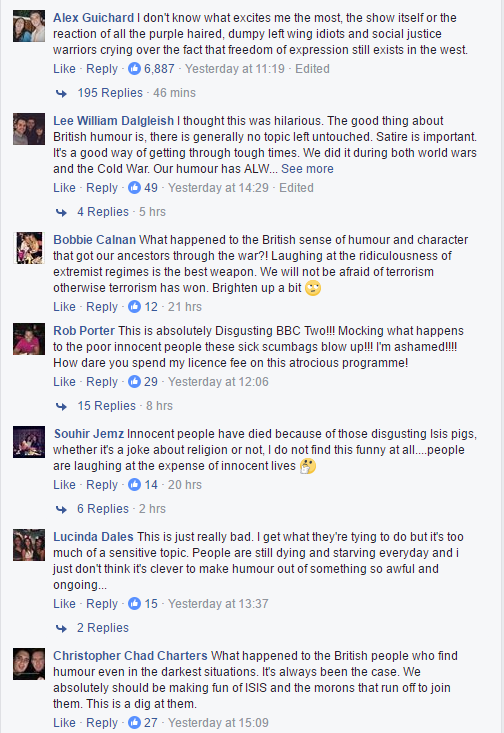 Many people defended the show, citing that some Brits are lacking a sense of humour. One person responded: "What happened to the British sense of humour and character that got our ancestors through the war?! Laughing at the ridiculousness of extremist regimes is the best weapon. We will not be afraid of terrorism otherwise terrorism has won."
Another added:" I am Muslim and I think this is exactly what we need to do. Mock these hateful creatures that has hijacked what was once known as a peaceful religion."
The post has garnered over 65,000 comments as it polarises public opinion, as the series continues every Tuesday at 10pm on the channel.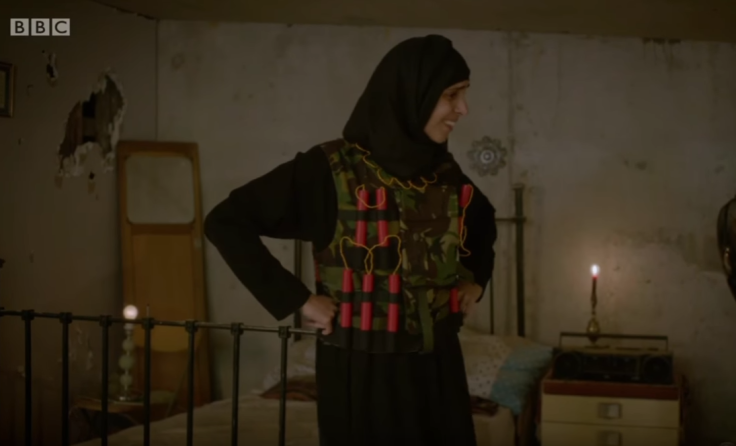 One character in the video is heard joking: "It's only three days until the beheading and I've got no idea what I'm gonna wear," as another quips: 'I have been widowed five times,' then a bomb goes off in the crumbling building and she adds '...six times".
Another female character says: "It's everything those guys in the online chatrooms said it would be," in reference to the British jihadi brides who flew out after being radicalised online.
The Real Housewives of Isis continues next Tuesday at 9pm on BBC2.