Like a fish takes to water, satire was inevitably going to take on Isis. Having scratched our heads to think what could possibly possess British Muslims to travel to live in Isis' caliphate (as Syrians ironically travelled in the opposite direction to escape the group), mocking and ridiculing those British Muslims was always going to be on the cards.
Especially as bemusing stories emerged of those British Muslims, who, having burnt their passports and pledged allegiance to Isis, would declare that their caliphate was the "perfect society", where women were "looked after".
After declaring their lifetime enmity to Britain, other British jihadists were found later complaining online that Isis members lack the "etiquette of queuing". Never mind the stoning to death of Syrian women, the grisly deaths of homosexuals, or the beheading of aid workers, one British jihadist's grumblings of Isis included the dismal fact that "you could be waiting in line for half an hour and then another Arab would come and push in the queue and go straight in".
Satire and Isis were always going to be natural bedfellows, and some of the darkest yet funniest material has come from the Middle East itself.
Yet over here in the UK, and rather predictably, a new BBC2 comedy, The Real Housewives of Isis (which hasn't even aired yet) has already received complaints of insensitivity and offensiveness after a trailer began doing the rounds on social media. The BBC spoof, based on the melodramatic, over the top and rather silly The Real Housewives programme, lampoons in full glory British women with their regional British accents who have eagerly left the UK to support Isis.
The short trailer provides a taste of not only the dry wit and sarcasm we Brits are well known for, but also provides the viewer a window into the ridiculous and absurd rationale of some of the women who chose to leave the UK for the murderous death cult.
As someone who has studied some of these female supporters and Isis' ideology on women, it was clear the writers had well and truly done their homework. They brilliantly displayed the oxymoron "death to the West" attitude of these British women, while mocking their all too obvious Western traits, language, tastes and outlook.
Isis has long made clear, for example, that women are not allowed to leave their homes without their husband, the sketch pokes fun at such a ludicrous suggestion, as we see one woman, tell the camera: "Ali bought me a new chain, which is eight foot long." Chained to the oven, she says: "I can almost get outside, so it's great!". Tragic comedy is an oxymoron itself.
Satire and Isis were always going to be natural bedfellows, and some of the darkest yet funniest material has come from the Middle East itself.
Some have pointed out that the BBC making fun of the oppression meted out on women by the terrorist group is "morally bankrupt". But this ignores the fact that women from our country (as opposed to girls who in their vulnerability were groomed) willingly chose to join the group, many admitting the desire to live in this caliphate and support Isis' brand of "women's empowerment". Just as many Isis women openly declared their support for the group, so too the comedy focuses on these adult women as supporters, rather than victims.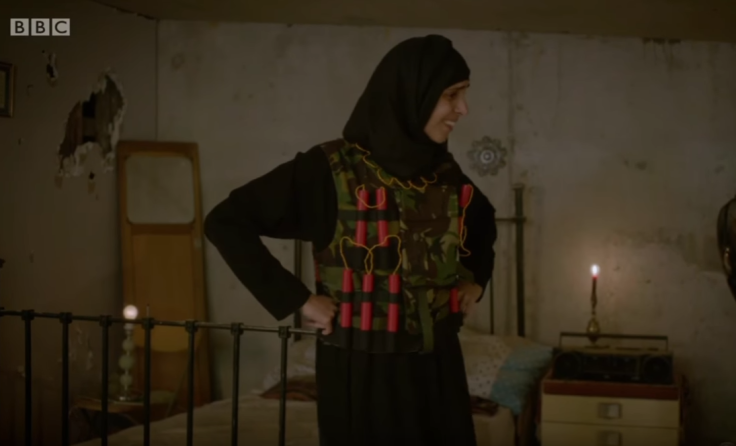 Perhaps it is this truth instead which uncomfortably offends some. The existence of female jihadists and terrorists continues to shock and unnerve us, as if by merely possessing two x chromosomes, women are unable to commit or support such heinous violence.
What should offend us more: the reality that there are women who endorse Isis' patriarchy and its oppression of women – or a show mocking these women? A satirical sketch does not offend me, but real women like Sally Jones do. Jones was once a one time lead singer of an all girl rock band from Kent who in 2013 converted to Islam and travelled to Syria to join her jihadist Birmingham-born husband Junaid Hussain who she had met online.
It is alleged that Jones plays a key role in training female recruits to attack the West. With her appalling spelling, punctuation and grammar, she openly gloats for the killing of Christians and has issued a number of terror threats against UK cities via her Twitter account. The Real Housewives of Isis pales in comparison to the likes of Jones.
Satire through the use of humour and ridicule is a unique tool which exposes and criticises the stupidity of people's vices and depravities in a way that only this device can. Satire's job is to expose problems, ugliness and contradictions, it's not obligated to solve them, so taking offence to satire misses its raison d'être.
Satire would have to be declared dead if mocking Isis supporters and terrorists is "offensive." Nor should we so easily dismiss its effectiveness as a counter-narrative to impressionable teenagers.
Terrorists ultimately seek to change the way we live our lives by creating a climate of fear. Satire is a long standing British trait, which helps to neutralise fear through such ridicule. Which is why, despite continuing to work daily to counter violent extremism and Isis propaganda, I will be watching the Real Housewives of Isis next week and laughing along.
---
Sara Khan is director of the counter-extremism and women's rights organisation Inspire. She is also co-author of the book The Battle for British Islam: Reclaiming Muslim Identity from Extremism (Sept 2016, Saqi Books)
---