Popcorn Time Pirated Movie Streaming Software Back Online After Belgium Domain Suspension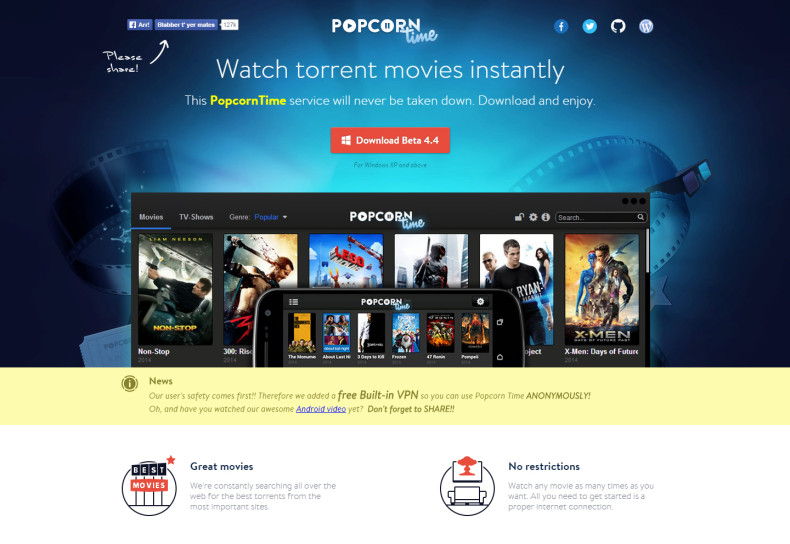 Authorities have clamped down on Popcorn Time, a popular movie torrent streaming service nicknamed the "Netflix for pirates", by getting its website domain suspended, but the service is now back up after four days of down time.
The European fork of Popcorn Time, Time4Popcorn is one of the most used in the world, and is currently installed on 4 million devices worldwide, including PC, Mac OS X, Linux, Android and iOS (but only for jailbroken devices).
The app features an intuitive user interface and was translated into 32 languages, so users could avoid downloading pirated content using BitTorrent and instead stream it in a range of qualities.
It was originally built by 20 developers on GitHub to be a version of Netflix that used pirated films for its content. But it was abandoned in March after Kim Dotcom, who had been hosting the software's installer on his Mega file-sharing service, took the file offline after supposedly receiving copyright infringement takedown notices from the movie industry.
Now the service is run by separate teams of anonymous volunteer developers around the world who have made new versions ('forks') based on the original code, with Time4Popcorn being the most successful.
Damage to Popcorn Time project
On 9 October, the time4popcorn.eu fork was suspended by the EURid registry, apparently due to some sort of "legal investigation taking place in Belgium", according to the developers. They claim they were given no notice of the domain being removed.
According to TorrentFreak, an email sent by EURid said that the time4popcorn.eu domain was suspended because of suspicion that inaccurate contact details were used to register the domain name.
Considering that Time4Popcorn's developers are anonymous to prevent themselves from being caught, there are obvious problems if the registrar insists on proof of identity.
While Popcorn Time was down, millions of users were unable to use the application on their devices over the weekend to stream video content.
"We suffered tremendous damage to our project, [with the] most serious damage being that we're no longer on Google since our URL no longer exists," Time4Popcon's developers told IBTimes UK.
"This action was taken deliberately to harm our project, to take down Popcorn Time once again."
However the developers are adamant that they will keep going, and went live yesterday on a new domain popcorn-time.se, as well as domain forwarder time4popcorn.com.
The movie industry probably views this as a significant victory since searches for Popcorn Time on Google now link to another fork and the original, abandoned version of the software.
How long can the service stay live?
In an interview with IBTimes UK two weeks ago, Time4Popcorn's developers said that all their traffic is encrypted to stop internet service providers (ISP) from blocking or slowing down traffic that comes from BitTorrents, and that all versions of the app include a free built-in virtual private network (VPN).
"Our next big mission, which along the way has become one of our biggest missions, is to protect our user's anonymity," the developers said.
"The initiatives we're working on will be revealed in approximately two to three months from now and they're going to be revolutionary and exciting as hell."
However, if the service can be taken down by simply suspending the domain name, then it is unlikely that Popcorn Time will be able to last very long as a reliable service.
Its developers might need to take a leaf out of Pirate Bay's book and use multiple hosted proxy sites that retrieve data from the blocked site on behalf of the user, as well as perhaps hosting multiple virtual machines in the cloud.