Pope Francis will make his first official visit to Africa this week, starting off in Uganda where he will hold a mass for Anglican martyrs at a shrine at Namugongo and meet young people at the Kololo airstrip in the capital, Kampala.
Gay activists are hoping Pope Francis will preach tolerance toward homosexuals while human rights campaigners want to see a strong message to the state to take a position on the protection of minorities.
LGBT community continues to face abuses
In Uganda, sexual and gender minorities continue to face arrest, discrimination, eviction from their homes and violence from government officials and private individuals, with Human Rights Watch reporting serious cases in the last few months alone.
Uganda's Anti-Homosexuality Act, which increased prison sentences for same-sex conduct and criminalised the "promotion of homosexuality," was found unconstitutional and nullified in August 2014 but homosexuality remains illegal and discrimination against them is widespread.
"It's a strong concern that we document harassment and abuse against sexual and gender minorities and, of course, some of the worries around the legislation are still there even though the Act was declared unconstitutional," Leslie Lefkow, deputy director in the Africa Division at Human Rights Watch, told IBTimes UK.
But church leaders in Uganda are praying he will avoid the issue altogether, AP reported on Monday (23 November).
"I doubt that Pope Francis will talk about homosexuals," said Archbishop John Baptist Odama, who heads the local conference of Catholic bishops. "There is a clear teaching of the church on homosexuality. Because the aim of it is not to promote life but to act against it, those with that tendency are called to abstinence."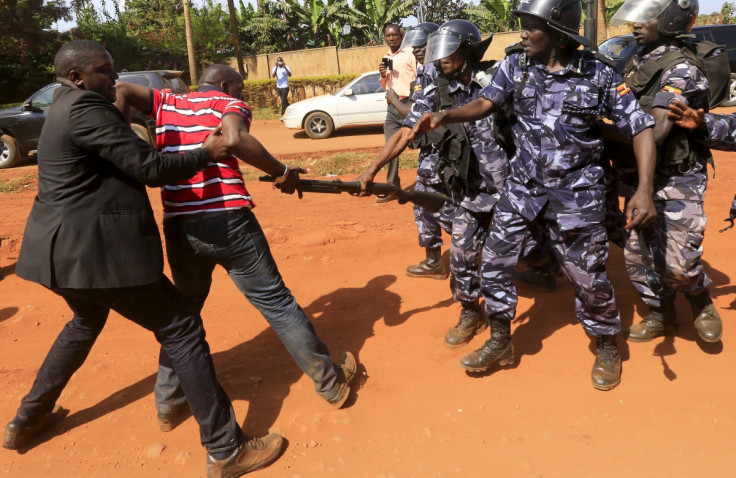 Uganda elections may be catalyst for 'serious violence'
Lefkow also called on the Pope to tackle what she described as increasing restrictions on free speech and peaceful assembly in the lead-up to the 2016 elections.
"The basic rights of people to express their views, form associations, freely choose their electoral candidates, express their opinions, hold peaceful meetings, and vote without intimidation are critical to credible and peaceful elections," she said.
"These elections come in a cycle of violence and dwindling political space in Uganda. There are strong concerns that the elections could be catalysts for some serious violence."
In September, HRW found that police used unnecessary and excessive force at opposition gatherings and fired tear gas to disperse people who had gathered to hear an election candidate despite the fact that there had been no disorder or violence.
HRW also claims the government has restricted the rights of civil society organisations after proposing a new Non-Governmental Organisations (NGOs) bill that would grant the internal affairs minister broad powers to supervise, approve, and dissolve all NGOs and community- based groups.
The bill, campaigners say, would impose severe criminal penalties for violations. Thousands of NGOs operating in Uganda such as groups working on oil transparency, human rights, including the rights of sexual and gender minorities, land, governance, and corruption would "have had an increasingly difficult time both carrying out their work and advocating change in public forums," HRW said.