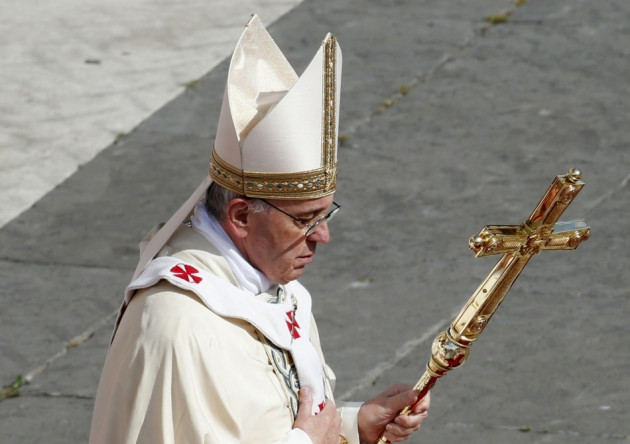 Pope Francis has bestowed sainthood on 800 Italians who were beheaded in the southern town of Otranto, after refusing to convert to Islam.
Of the 800, only the name of one - Antonio Primaldo - is known.
The Italian "Martyrs of Otranto" were executed in the 15th century after 20,000 Turkish soldiers invaded their town in south-eastern Italy.
According to popular tradition, when the soldiers beheaded Primaldo, his body defied gravity and remained standing even though the Turkish soldiers tried to push him over.
The decapitated man stood until the very last prisoner was killed, at which point Primaldo's body collapsed next to his dead compatriots.
Others canonised at a mass on Sunday in St. Peter's Square were two Latin American nuns - Laura Montoya from Colombia and Maria Guadalupe Garcia Zavala from Mexico - who both died in the 20th Century.
Mother Laura Montoya - who will be Colombia's first saint - spent her life helping indigenous people.
She founded the Missionaries of Mary Immaculate and Saint Catherine of Sienna when she and four other young women moved to what was then dense jungle to "become an Indian with the Indians", according to her Vatican biography.
Zavala, called Mother Lupita by Pope Francis, sheltered Catholics during a government repression against the faith in the 1920s.
In just two months of taking office, Pope Francis has proclaimed more saints than any of his predecessors.
However, it was Pope Benedict who started the process for their canonisations. His successor, Pope Francis, is continuing the process of honouring a new generation of modern as well as historic martyrs, according to a BBC report.
Later this month an Italian priest, Father Giuseppe Puglisi, who was murdered by the Sicilian mafia 20 years ago will be beatified - the last step before being declared a saint.
Pope John Paul II, who died in April 2005, could be Saint John Paul by October 2013, according to the Vatican. He's already been beatified and given the title "Blessed John Paul", in May 2011.
Two miracle cures have been attributed to John Paul. One involved a nun called Sister Marie, who was cured of Parkinson's disease. Unfortunately, she suffered a relapse after being cured.
A second was reported at St Peter's Basilica, when a wheelchair-bound boy suffering from kidney cancer visited the former Pope's tomb and began walking normally.