Pope Francis canonises parents of St Therese of Lisieux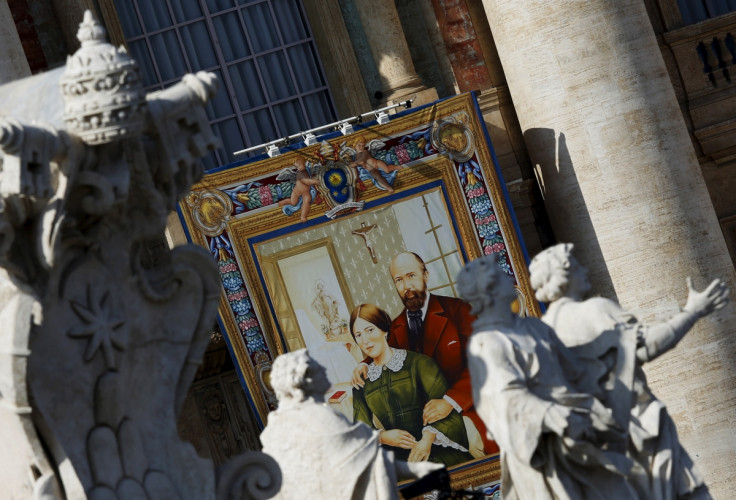 The parents of French saint Therese of Lisieux were canonised by Pope Francis on Sunday (18 October), marking the first time a couple have ever been made saints on the same day. In a ceremony held in Rome's St Peter's Square, Pope Francis praised the couple for raising the girl Pope Pius X called "the greatest saint of modern times".
Louis Martin and Marie-Zelie Guerin, who died in 1894 and 1887 respectively, had nine children. Four died in infancy and the remaining five became nuns. Therese, who died of tuberculosis aged in 1897 aged just 24, was raised to sainthood in 1925 by John Paul II, becoming known as "The Little Flower."
Pope Francis has said that he turns to her for help and guidance, while her autobiography, The Story of a Soul, tells of her determination to dedicate her life to God and has inspired generations of modern Catholics.
"The men and women canonized today unfailingly served their brothers and sisters with outstanding humility and charity, in imitation of the divine Master", Pope Francis said in his homily. "The holy spouses Louis Martin and Marie-Zelie Guerin practised Christian service in the family, creating day by day an environment of faith and love which nurtured the vocations of their daughters, among whom was Saint Therese of the Child Jesus."
The ceremony was part of a meeting of cardinals and bishops at the Vatican to discuss issues relating to the family and the role of the Catholic Church. Pope Francis also canonised priest Vincenzo Grossi, who died in 1917 after dedicating much of his life to helping the poor in northern Italy, and María Isabel Salvat Romero, a 20th Century Spanish nun.
© Copyright IBTimes 2023. All rights reserved.