Pope Francis called on Cuba to continue reconciliation efforts with the US as he kicked off a four-day visit of the Communist country on 19 September. The pontiff, who was greeted by Cuba's President Raul Castro when he landed at Havana airport, hailed the recent normalisation of relations between Cuba and the US as "an example of reconciliation for the entire world".
He also called on the Cuban government to provide greater freedom to the Catholic Church to operate in the country. The Pope, who is credited with providing help in ending five decades of hostilities between Cuba and the US, was cheered on by thousands of people lining the streets en route to the home of the Vatican ambassador to Cuba.
The leader of 1.2 billion Catholics is to celebrate Mass with tens of thousands of Cubans in Havana's Revolution Square on 20 September.
'Victory of dialogue'
"We have witnessed an event which filled us with hope: the process of normalising relations between two peoples following years of estrangement," Pope Francis said in a statement after landing at Havana airport.
"It is a sign of the victory of the culture of encounter and dialogue, 'the system of universal growth' over 'the forever-dead system of groups and dynasties'.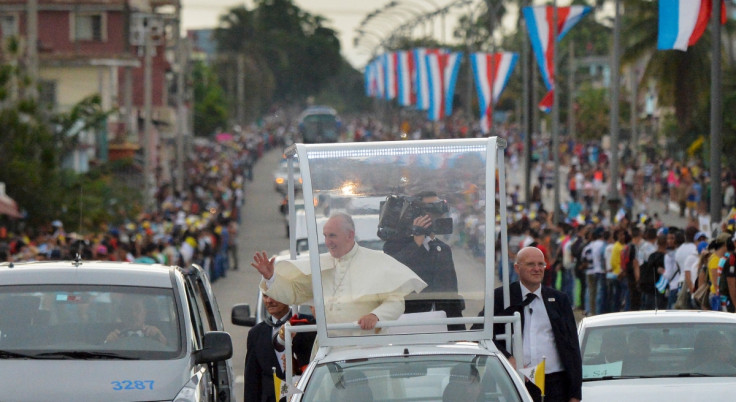 "I urge political leaders to persevere on this path and to develop all its potentialities as a proof of the high service which they are called to carry out on behalf of the peace and well-being of their peoples, of all America, and as an example of reconciliation for the entire world."
He also urged more support for the Catholic mission in Cuba so that "the Church can continue to support and encourage the Cuban people in its hopes and concerns, with the freedom, the means and the space needed".
Pope Francis is popular in Cuba for his socialist leanings and his public disapproval of the free market system. In July, the Argentine-born denounced capitalism as "the mentality of profit at any price", and called for the creation of new economic order during a visit to Bolivia.
The Catholic leader, who is visiting Cuba for the first time, travels to the US from the Caribbean nation on 22 September.