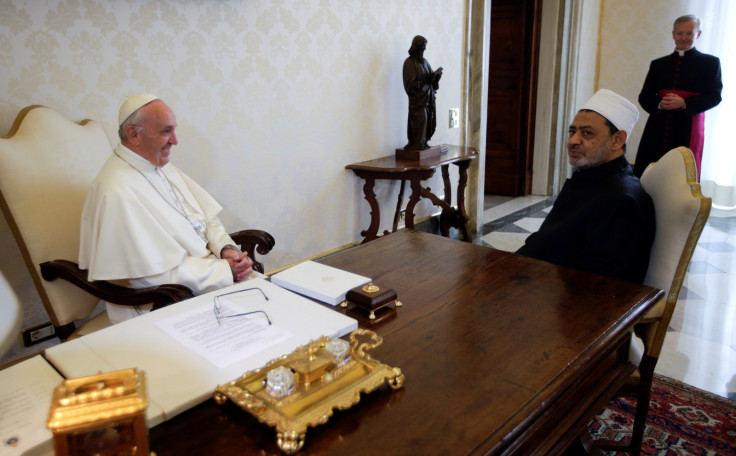 Pope Francis has met Sheikh Ahmed al-Tayeb, the imam of Cairo's al-Azhar mosque, marking a thaw in relations between the mosque and the Vatican. On 23 May, the Pope welcomed the Sunni cleric to the Vatican and emphasised the need to improve inter-faith relations between the two.
The Pope called the meeting "significant" and said, "The meeting is the message," as reported by the BBC.
In their 30-minute meeting, the two religious heads are reported to have discussed the problems of violence and terrorism, and the condition of Christians in the Middle East.
Relations between Al-Azhar, the highest authority of Sunni Islam, and the Vatican started souring in 2006, when Pope Benedict, the predecessor of Pope Francis, cited a 14th Century Byzantine emperor in remarks taken by some Muslims to mean that Islam was a violent religion.
Following that, in 2011 al-Azhar finally severed contacts with the Vatican and said Pope Benedict made "repetitive and negative statements" about Muslims.
Pope Francis became the head of the Vatican in 2013 and since then has repeatedly stressed on improving relations with the Muslim authority and condemned comments that equalise terrorism with Islam.
ABC reported the Pope as saying in an earlier interview, that "The idea of conquest is inherent to the soul of Islam," and added that Christianity had the same missionary goal in its "Great Commission" where Jesus told his disciples to "go and make disciples of all nations."
The Pope has also set an example by providing shelter to Muslim refugees escaping the war in Syria.