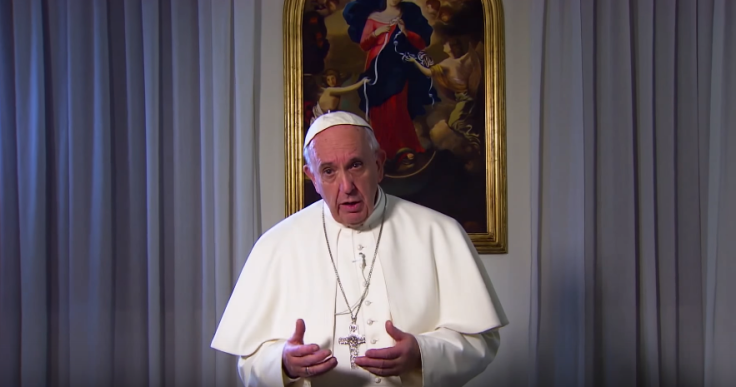 Major commercial brands and film studios were not the only ones to take advantage of the prime time advertisement opportunity during the Super Bowl. The Vatican also released a video in time for the National Football League championship game, which took place on 5 February.
As fans of the New England Patriots and Atlanta Falcons cheered their teams, Pope Francis used the event to encourage peace among cultures and used the game as an example of putting aside differences for a greater cause.
"Great sporting events like today's Super Bowl are highly symbolic, showing that it is possible to build a culture of encounter and a world of peace," he said in the video, speaking in his mother tongue, Spanish. "By participating in sport, we are able to go beyond our own self-interest — and in a healthy way — we learn to sacrifice, to grow in fidelity and respect the rules.
"May this year's Super Bowl be a sign of peace, friendship and solidarity for the world," he added.
While this is the first time a pope has released a Super Bowl video, it is not the first time Francis — an Argentinean football fan — has used a major sports event to address the public. In 2014, he issued a statement during the football World Cup urging people to "overcome individualism, selfishness, all forms of racism and intolerance".
While the head of the Catholic Church preached peace to the world, in Rome the streets were being plastered with posters criticising him. On 4 February, posters featuring a sullen looking Francis appeared in Rome. "Where's your mercy?" a slogan below the image read. Written in the Romanesco dialect, it went on to slam him for "the beheading of the Knights of Malta".
This criticism of his actions against some conservative Catholics came the same day the Pope appointed a special delegate from the Vatican to help renew the Knights of Malta, a traditional Catholic Order, which has been embroiled in a bitter dispute with the Church. In January, Francis has also called for the resignation of the Order's grand master, Robert Matthew Festing.
City authorities were quick to remove or cover the posters, citing that it was "illegal advertising" and the Pope's supporters see this move as an indication that he is doing something right. "It's a sign that he's doing well and causing A LOT of bother," Fr Antonio Spadaro, editor of Jesuit Vatican journal La Civiltà Cattolica, tweeted.