Fifa's decision to ban football players from wearing poppies on their shirts during an England-Scotland match on Armistice Day has sparked controversy.
Although the match falls on a day when Britain traditionally honours those who have died in war, football's governing body banned the Remembrance symbol as it outlaws players from wearing symbols that can be construed as "political, religious or commercial".
Many people have expressed outrage on social media, arguing players should be allowed to wear poppies should they choose to. Theresa May launched an attack on Fifa following the announcement, saying their stance was "utterly outrageous" and that footballers "want to recognise and respect those who have given their lives for our safety and security".
Others agree with Fifa's decision, saying the poppy no longer represents remembrance in the way it was intended.
The Remembrance poppy is worn every November to commemorate members of the armed forces who have died in war. It has been a symbol of Armistice Day and Remembrance Sunday since the First World War.
In 1915, the sight of red poppies growing in a field inspired Lieutenant Colonel John McCrae to write the poem In Flanders Fields. His poem motivated an American academic, Moina Michael, to make and sell poppies which were brought to England.
The Royal British Legion, which was founded in 1921, sold millions of the poppies in the first Poppy Appeal in November that year, raising more than £100,000. The funds were used to support veterans of the First World War with employment and housing.
Although poppies are still widely sold and worn across UK in November, the flower is seen as controversial in some regions of the UK. In Northern Ireland and the Republic of Ireland, the poppy is regarded by some as a political symbol.
Some choose not to wear poppies because of the actions of the British Army during the Troubles, and the Poppy Appeal is regarded as supporting soldiers who killed Irish civilians in events such as Bloody Sunday. The term refers to the events of 30 January 1972, when 14 unarmed Irish civilians died after British soldiers opened fire on a protest march in the Bogside area of the city of Derry.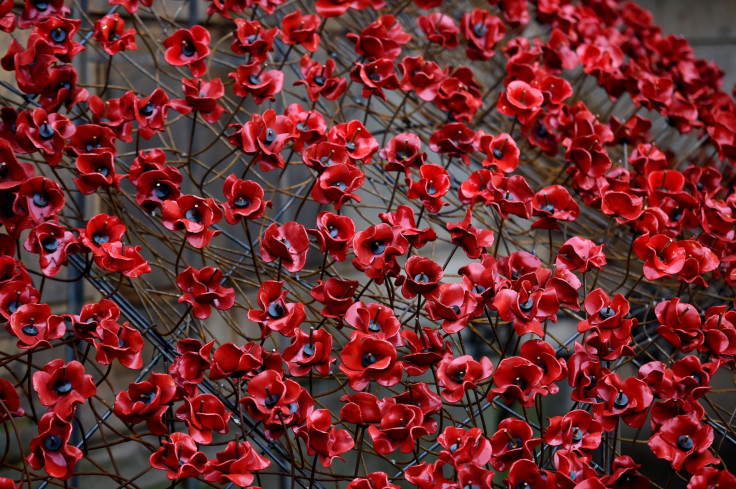 Irish footballer James McClean has previously spoken out against the poppy, saying it represents all conflicts, not just the First and Second World Wars. He said he would "wear it every day of the year" if it only represented victims of WWI and WWII, but "because of the history where I come from in Derry, I cannot wear something that represents that [British conflicts]". McClean has received death threats for his stance on the poppy.
Some people eschew wearing poppies because of "poppy policing" or "poppy fascism" – in which people are lambasted for not wearing the flower. Several public figures, such as journalist and presenter Jon Snow, have refused to wear poppies on this basis, arguing that being bullied into supporting a cause undermines its purpose of remembrance.
Veterans have criticised the politicisation and misappropriation of the poppy by right-wing groups to spread nationalism and fuel xenophobic rhetoric. James Wharton, who served in the Household Cavalry from 2003 to 2013 and campaigns for veterans' rights, has spoken out against the misappropriate of the Remembrance poppy.
In an article for the Independent in 2014, he wrote: "The red poppy we wear with pride is the symbol of ultimate sacrifice, and the national logo of remembrance... So seeing an organisation like Britain First – who I consider racist and total contrary to the values, standards and ethics of our military – hijack this legend and use it for their own propaganda, in an attempt to boost their reach on social media, leaves me disgusted."
British writer and political commentator Harry Leslie Smith, who served in the RAF during the Second World War, has also criticised the politicisation of the poppy. In 2014, he tweeted that the symbol had been "co-opted by politicians to justify our present wars on terror that are eroding democracy".
The poppy has also been criticised by pacifists for being a symbol of the justification of conflict. The Peace Pledge Union, an anti-war NGO which promotes non-violent solutions to conflict, produces white poppies to commemorate war veterans and civilian victims. The PPU website states the traditional red poppy reinforces "support and acceptance of the military". The White Poppy Appeal has come under fire from various public figures, including Margaret Thatcher in the 1980s.