Popstar Justine Skye drops to one knee after singing US national anthem at NBA match
Singer staged Black Lives Matter protest after singing Star-Spangled Banner in front of NBA crowd.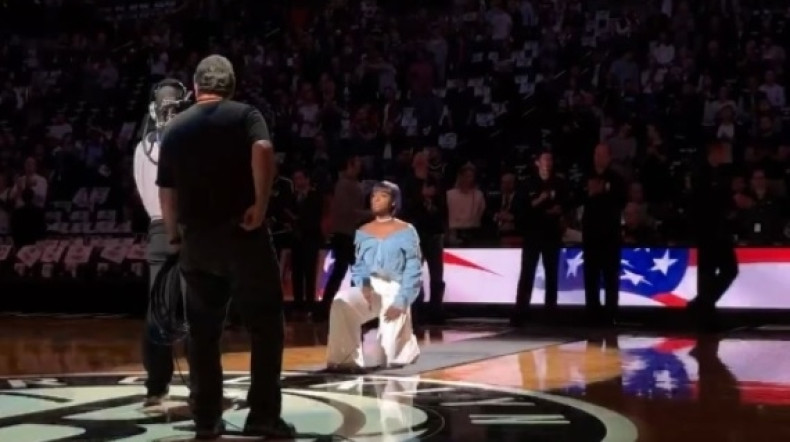 US popstar Justine Skye has become the latest celebrity to drop to one knee during the national anthem, as she sang in front of an NBA crowd in her hometown of New York.
The 22-year-old was singing the Star-Spangled Banner before the Brooklyn Nets - Orlando Magic clash at the Barclays Centre on Friday (20 October).
As she came to the end of her rendition, which was watched by standing spectators, officials and players, Skye knelt for the final line "..and the land of the brave."
A video of the performance on her Instagram account showed a largely enthusiastic response as spectators cheered and applauded. But there were also reports she was booed for the symbolic act, which has also been condemned by US President Donald Trump.
She later wrote on Instagram: "Got a bit shaky at the end..was pretty uneasy about singing the anthem and probably won't ever be invited to sing it again but I had to take a knee for the opening game in my city and let my voice be heard. We will not be silenced". She signed the post off with #Blacklivesmatter.
The controversy over kneeling during the national anthem started when the NFL player Colin Kaepernick started taking the knee in August last year as a protest against the killing of African Americans by police officers.
"I am not going to stand up to show pride in a flag for a country that oppresses black people and people of colour," he said at the time. "To me, this is bigger than football and it would be selfish on my part to look the other way. There are bodies in the street and people getting paid leave and getting away with murder."
The athletes and celebrities who have since backed the protest include Cleveland Cavaliers basketball star LeBron James who has called Trump a "bum," Harry Potter author J.K. Rowling and singer Stevie Wonder knelt at a New York music festival last month.
But as the demonstration gained support, the president stoked controversy by calling upon NFL owners to fire players who did not stand during the anthem.
Speaking to supporters in Alabama last month, Trump said: "Wouldn't you love to see one of these NFL owners, when somebody disrespects our flag, to say, 'Get that son of a b**** off the field right now. He is fired. He's fired!'"
Trump launched a petition last week in hopes to pressure the NFL to make players stand for the national anthem.