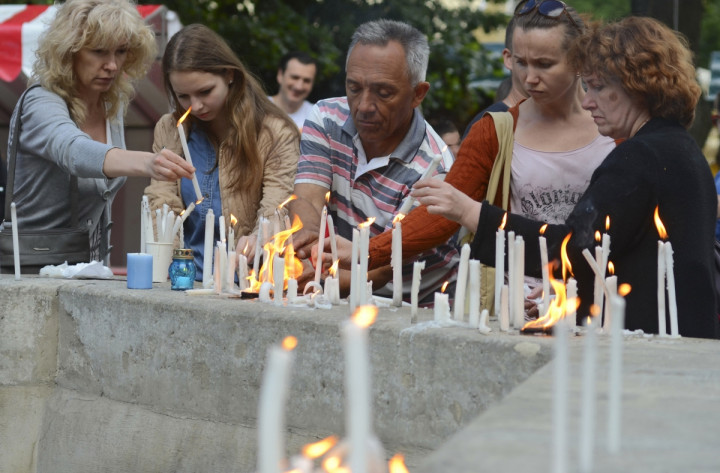 Ukraine's President Petro Poroshenko has declared Sunday a national day of mourning for the 49 military servicemen who died when their plane was shot down by pro-Russian separatists in the east of the country.
Newly elected Poroshenko vowed to deliver an "adequate" response to Saturday's attack, which was the biggest loss of life in a single incident since Kiev launched operations to defeat the insurgency in the east of the country.
"All those involved in cynical acts of terrorism of this magnitude must be punished," Poroshenko said.
The Ilyushin-76 military cargo plane was over the city of Luhansk and preparing to land when it came under anti-aircraft fire. The eastern city has become a hub for pro-Russian separatists waging an insurgency throughout eastern Ukraine.
All those on board the plane, including 40 paratroopers and nine crew members, died in the attack.
The government has launched an investigation into the incident and army spokesman Vladislav Seleznov said that preliminary reports suggest that "stinger-like" missiles were used in the attack.
The attack deals a blow to Kiev's campaign to quell an insurgency in eastern Ukraine. Poroshenko is facing pressure to bring the violence to an end and secure the country's borders. Ukrainian billionaire Igor Kolomoisky has even offered to finance the construction of an electric fence along the country's border with Russia.
"For the sake of peace, we will act decisively and purposefully," said Poroshenko, hailing the seizure of the port city of Mariupol from rebel forces. He also hailed the recapture of a vast stretch of the border with Russia "across which the terrorists get weapons, equipment, reinforcements and money".
Rebel fighters were seen combing through wreckage of the plane, searching for ammunition.
"This is how we work," one of the rebel fighters told Reuters. "The fascists can bring as many reinforcements as they want, but we will do this every time. We will talk to them on our own terms."
Luhansk is a key city in eastern Ukraine, where militants have declared an independent republic.
More than 270 people have been killed since Kiev launched a military operation to regain control of eastern Ukraine. Poroshenko vowed to end the fighting when he was sworn in as president in early June.