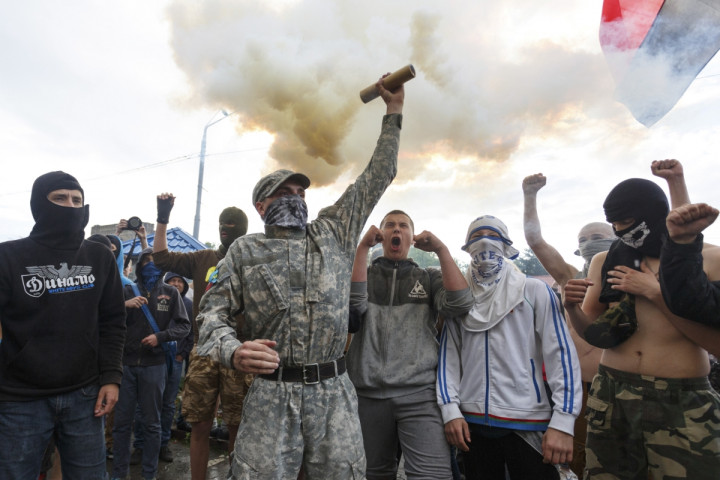 Russia has accused Ukrainian police of failing to stop a riot at the Russian embassy in Kiev.
Demonstrators tore up a Russian flag and pelted the embassy with eggs and paint but events turned more violent as windows were smashed, cars overturned and a petrol bomb was hurled.
Russia reacted angrily to the events, calling the Kiev police's failure to stop the protest "a grave violation of international obligations".
Washington added its voice to the international condemnation, urging Ukrainian authorities "to meet their Vienna convention obligations to provide adequate security".
Ukraine's Foreign Ministry said in a statement that some of those responsible had been arrested. "Some instigators were detained. The Ukrainian government takes all measures so that the protest action proceeds peacefully and security of the diplomatic mission is restored."
A crowd of more than 100 protesters gathered at the embassy on Saturday in protest over Russia's actions in eastern Ukraine.
According to Reuters, some of the youths held up banners saying "Russia go home," and attacked the embassy gates, while the police did nothing to stop them.
Russia's state broadcaster RT reported that members of the Ukrainian far-right group, Right Sector, joined the demonstrations in the evening, throwing smoke grenades and a Molotov cocktail at the embassy.
The embassy attack followed the deaths of 49 Ukrainian servicemen on board a military plane that was shot down by pro-Russian fighters earlier in Luhansk.
Ukraine and its western allies accuse Moscow of supporting pro-Russian separatist fighters across the country's east. Moscow denies the accusations.
Russia and Ukraine became embroiled in a diplomatic dispute after Moscow annexed the Crimea region from its neighbour in March, following the overthrow of Ukraine's former pro-Russian president. The current government in Kiev is seeking to form stronger economic and diplomatic ties with the European Union.
Watch the video of Ukrainians attacking Russian embassy: