Portuguese toreador gored to death by 530kg bull during bare-handed standoff
WARNING GRAPHIC IMAGES: Fernando Quintella was fatally wounded in Lisbon.
A Portuguese toreador was gored to death by a 530kg bull in front of a horrified crowd in Lisbon on Saturday (16 September).
Fernando Quintella was fatally wounded during a bare-handed standoff with the beast at the bullring of Moita, a district of the Portuguese capital.
The 26-year-old belonged to a forcado, a group of men that takes part in traditional bullfights in Portugal.
Dressed in a traditional costume with a long knitted green hat, the bullfighters provoke the animal by running circles around it and grabbing hold of its horns.
Video footage shows the bull charging at Quintella and trapping his body between two horns, before violently throwing him to the ground. Several other members of forcado managed to pull him away from the bull, but he was already seriously injured.
Quintella was rushed to São José hospital in Lisbon, where surgeons were unable to stop the haemorrhaging, and he died several hours later from internal bleeding.
A member of the Amadores de Alcochete forcado since 2008, Quintella made his debut as a bullfighter in France.
Tributes poured in for the toreador on the group's Facebook page, with one mourner describing him as a "warrior", while another wrote that he was a "brave and young forcado."
Quintella is not the first bullfighter to die this year. In June, top Spanish matador Ivan Fandino was gored to death during a bullfighting festival in France. The animal attacked after Fandino tripped over his cloak and fell to the ground.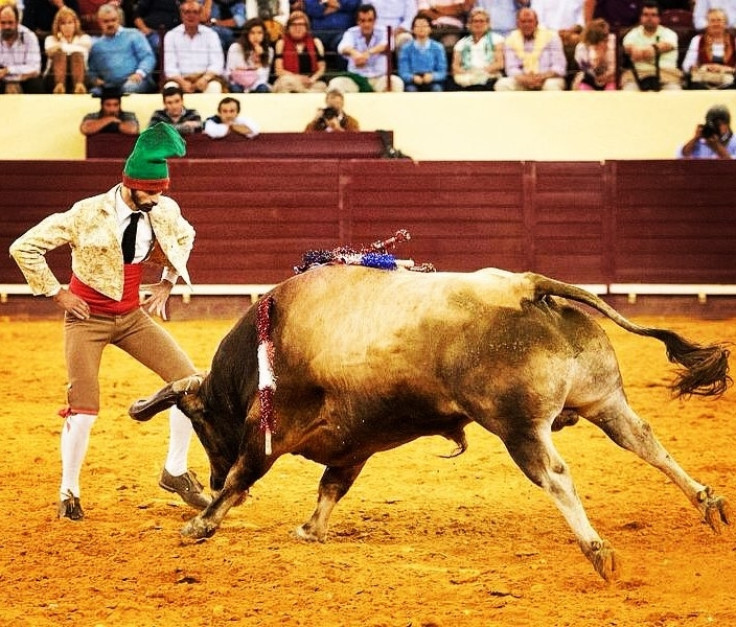 © Copyright IBTimes 2023. All rights reserved.