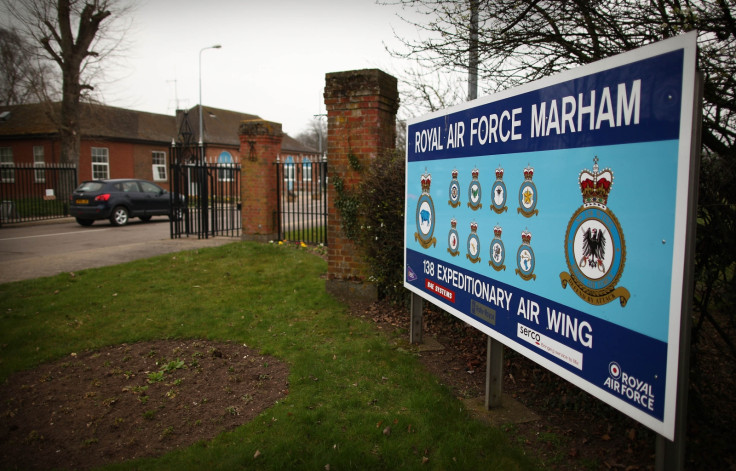 Police are now treating the attack on an RAF serviceman outside RAF Marham as an attempted abduction. Police said they are "currently unable to discount terrorism."
On 21 July, two men, one armed with a knife, approached the serviceman outside RAF Marham near King's Lynn. The serviceman, who was not wearing a uniform at the time, was jogging in the area.
He successfully fought of the first suspect who tried to grab him, knocking him to the ground. As the second suspect, armed with a knife, helped his accomplice the serviceman fled. The victim was not seriously injured in the attack.
Police have confirmed they are treating the incident as an attempted abduction and are "currently unable to discount terrorism" as the motive.
Detective Superintendent Paul Durham, from the Norfolk and Suffolk Major Investigation Team, said: "I can confirm we are treating this as an attempted abduction and detailed enquiries are being carried out at the scene to establish the full circumstances.
"The motivation for the attack remains unclear at this time, and whilst we are currently unable to discount terrorism, there are a number of other possible hypotheses. We are therefore carrying out a thorough investigation to understand what has happened, why and who is responsible.
"Visible patrols continue in the area and officers will be carrying out house-to-house enquiries and detailed searches of the scene in Squires Hill, which remains closed for the time being."
No arrests have been made and police are searching for two suspects in connection with the alleged abduction attempt.
Internal memos shared on social media have revealed that senior military personnel at the base described the incident as an alleged kidnapping attempt and asked servicemen to keep a low profile and not wear identifying clothing for their own safety.
One warning added: "Specifically, until the threat subsides, no one is to be on their own on foot, or on a bicycle, within the local area in uniform, or clothing which might identify them with the military."
In 2013, Fusilier Lee Rigby was killed in a terror attack outside military barracks in Woolwich. His killers, Michael Adebolajo and Michael Adebowale, claimed they were "soldiers of Allah" and targeted Rigby, who was wearing a Help for Heroes hooded top at the time, because he was a British soldier.
A Ministry of Defence spokesperson added: "We are aware of an ongoing police operation in relation to an incident near RAF Marham. It would be inappropriate to comment further at this stage."