The Police Federation will be left leaderless after the chairman and general secretary both announced their sudden resignations.
Steve Williams and Ian Rennie will leave the organisation after its annual conference in May.
Their decision comes in the wake of a number of scandals including the Plebgate affair as well as a loss of public confidence in policing in England and Wales.
Williams said the timing was right for another chairman to take the helm of the federation, which represents 131,000 police officers.
He said: "The Police Federation has faced a turbulent period and there has been much criticism of our organisation and the way certain members behaved.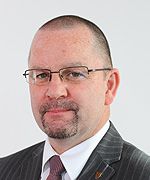 "Over the last few months, despite at times some significant challenges and opposition along the way, I have tried to manoeuvre the organisation to a place whereby we can start to deliver what is best for the Police Federation, its members and the British police service as a whole.
"Having reflected on where we now are, I feel that it is only right and proper that PFEW elects a new chairman to take this organisation into the next phase."
Williams admitted that January's independent review highlighted that the federation was not delivering what members wanted.
Rennie, who has been general secretary since 2008, has not commented.
Sir David Normington report - Worrying loss of confidence
A damning large-scale investigation into the Police Federation revealed a need for major reforms of its culture, behaviour, structures and organisation.
In a survey by Ipsos Mori on behalf of the Independent Review, 91% of members surveyed called for the Police Federation to change
The report, published in January, raised concerns about the Police Federation's lack of transparency, weak accountability, an inability to promote good behaviour and professional standards, and internal divisions that have hampered its effectiveness and reputation.
It put forward 36 recommendations on how it could be transformed including the publication of all accounts and expenses and fewer committees.
The root and branch reform outlined in the report was recommended after the Plebgate saga, which claimed the job of Conservative party chief whip Andrew Mitchell.
Mitchell was reported to have become embroiled in an expletive-ridden argument with police officers at the gates of Downing Street in September 2012 and was said to have called one officer a "pleb".
It emerged PC Keith Wallis had lied about witnessing the incident. He admitted he had provided a false account to his MP.
MP Keith Vaz, chairman of the Home Affairs Committee, said he was "amazed and surprised" by the resignations.