On 3 August, Nepal's parliament elected Pushpa Kamal Dahal as their new prime minister. The 61-year-old, best known as 'Prachanda', took office one week after KP Oli stepped down ahead of a no-confidence motion against him.
According to Reuters, Prachanda was elected after winning 363 of the 573 votes in Nepal's 595-member parliament. He was elected unopposed and becomes Nepal's 24<sup>th prime minister since the establishment of a multi-party democracy in the country in 1990.
Who is Prachanda?
Prachanda, whose real name is Pushpa Kamal Dahal, is the former leader of the Communist Party of Nepal (Maoist). He led an insurgency against the Nepalese government for a decade from 1996 until 2006 and then served as Nepal's prime minister from 2008 until 2009.
His first term as prime minister ended in 2009 when he was forced to resign amid differences with the president over his sacking of army chief official Rookmangud Katwal. He still maintains his nom de guerre from his insurgency days, Prachanda, which means "fierce".
Prachanda joined the underground Communist Party of Nepal in 1989 as a result of witnessing severe poverty in the country while he was young, drawing him towards left-wing politics.
What does Prachanda's election mean for Nepal?
Ahead of his election, Prachanda told Nepalese MPs: "I will work for national unity, to promote the interest of the country and its people."
However, few remain convinced that his election will stabalise Nepal's "revolving-door politics" that has resulted in a setback in business confidence in the country. There has been wide speculation that Prachanda's election was made possible due to a "power-sharing deal", which would see Nepali Congress leader Sher Bahadur Deuba take over from Prachanda ahead of Nepal's general election in 2018.
Guna Raj Luitel, editor of the daily publication Nagarik, told Reuters: "I don't think he will be stable. There is no agreement between parties on a basic agenda for the country. They have only agreed for convenience, and there is already a deal to change the prime minister after nine months."
Frequent changes in Nepal's governing party are seen to be pushing the country back even further, where a quarter of the 28 million-strong population live on less than $2 a day (£1.40, €1.70).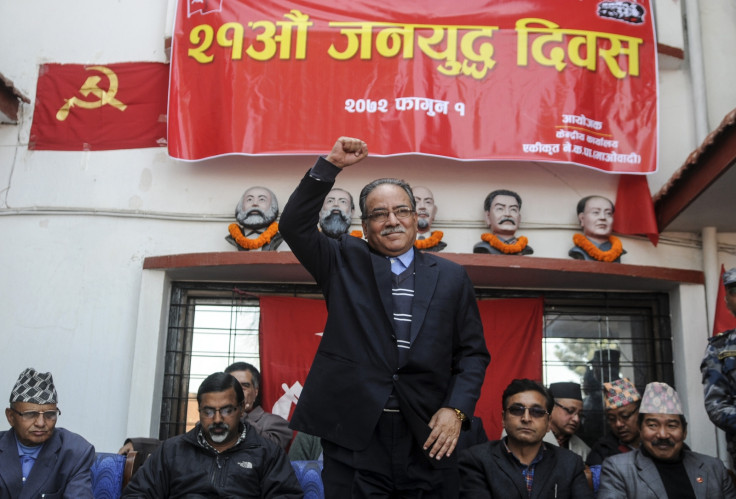 What does Prachanda's election mean for the region?
The election of Nepal's new prime minister has left the region's two superpowers, India and China, in a scramble for power. Both countries have long since battled for influence over their common neighbour, which is home to the world's tallest mountain, Mount Everest, and is the birthplace of the Buddha. Nepal also has the potential to generate hydroelectric power, which has increased interest in the country.
Prime Minister Oli's nine-month reign saw tensions rise with India, prompting the former Nepalese leader to boost ties with China. In March, Oli confirmed a deal with China to use its ports for trading goods with other countries, angering India who controls Nepal's main overland trade route.
Furthermore, Prime Minister Oli recalled Nepal's ambassador to India after criticising them for increasing involvement in Nepalese politics. Ethnic Madhesi people who live in the Nepal plains on the border of India began blocking fuel imports from the subcontinent in protest against their involvement.
However, things could turn around for the region with the election of Prachanda, who is believed to be friendlier with India. Ashol Malik, fellow at the Observer Research Foundation in New Delhi, told Bloomberg ahead of Prachanda's election that it was the "end of a chapter that didn't go too well for India".