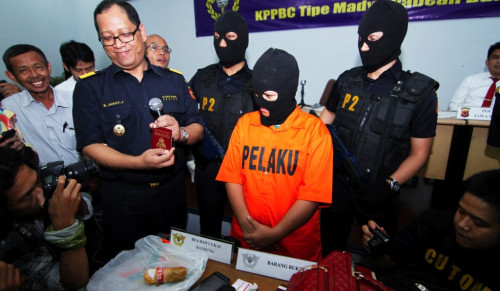 A pregnant Cambodian woman faces execution after reportedly being caught with over 200 grams of methamphetamine at an Indonesian airport.
The 26-year-old woman, known only as S.S., was reportedly a courier for an international trafficking ring and officers suspect she was used by her own husband, a Nigerian national.
S.S. was arrested at Husein Sastranegara International Airport in Bandung, West Java. She entered the airport from Singapore via a Tigerair flight, according to the Java Globe.
After a body search, officers found a package of drugs inside her anus.
"We conducted a test in the laboratory and the test confirmed that the package contained sabu, [Indonesian term for methamphetamine]," said Benediktus Jarot Jatmika, the head of Bandung's customs office.
"We suspected she was pretending to be pregnant but after we conducted a USG we indeed saw a fetus, no other illicit substances."
S.S. could face death, according to Jarot.
The customs office has handed over S.S. and the drugs she was carrying to officers with the West Java Police narcotics division.
Adj. Sr. Comr. Dicky Sapta, head of drug eradication at the BNN's West Java branch, said his division was still trying to trace the syndicate allegedly operating in the airport.
"We are also monitoring a number of incoming flights from overseas," he added.
String of arrests
Since the Husein Sastranegara airport was opened to international flights from Singapore and Malaysia, it has become a target for drug smugglers, according to Jarot. The West Java customs office recorded two drug-trafficking attempts at the airport on consecutive days last September.
The first attempt was carried out by a 48-year-old Indonesian who was caught in possession of 2,900g of crystal meth on Sept. 7. He had hidden the drugs in three envelopes that were secreted in the base of his suitcase.
The following day, two Indian nationals were caught smuggling 975 g of crystal meth between layers of their sandals.
West Java officers also arrested a German man in January, identified as D.O., who was caught carrying six pills of ecstasy and 0.54 grams of methamphetamine.
D.O. was believed to be only a tourist not related with the smuggling net monitored by the officers.