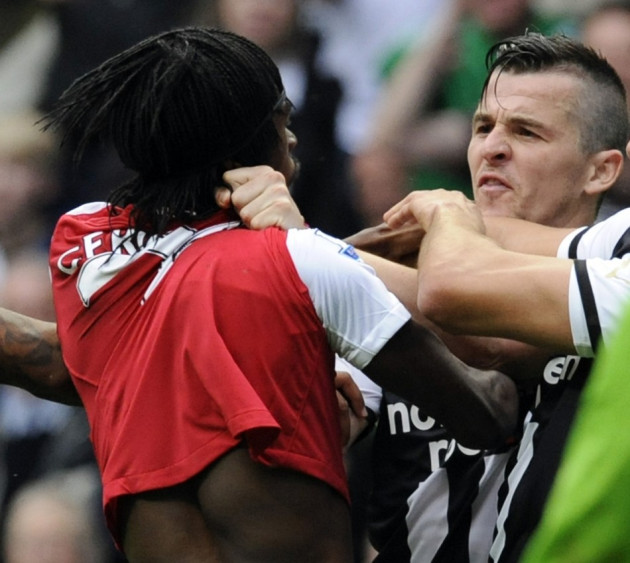 Gervinho was sent off on his Arsenal debut as Arsene Wenger's difficult week continued as they were held to a controversial 0-0 draw at Newcastle United on Saturday.
The Cote d'Ivore striker was shown a red card in the 76th minute when he lashed out at Newcastle midfielder Joey Barton after the pair clashed in the penalty area.
Arsenal, who were without Cesc Fabregas and Samir Nasri, dominated the opening half but rarely tested Tim Krul in the Newcastle goal.
Attention is bound to focus on Barton's role in Gervinho's sending off, after the latter appeared to go down easily in search of a penalty, midway through the second half.
Barton remonstrated with the Arsenal forward, grabbing his shirt and pulling him to his feet. Gervinho then aimed a slap at Barton who crumpled to the floor theatrically. The Newcastle player, no stranger to controversy himself, was lucky to escape with only a yellow card, as Gervinho was dismissed.
Arsenal manager Arsene Wenger questioned whether the referee had even seen the incident and said both players should have received the same punishment.
"Gervinho didn't deserve a red card. He [referee Peter Walton] gives a red to the two or a yellow to the two," he told ESPN television.
"The referee has not seen it and the linesman has not seen it properly. I'm 100 percent sure the referee didn't see the incident. I would like to see who made this decision."