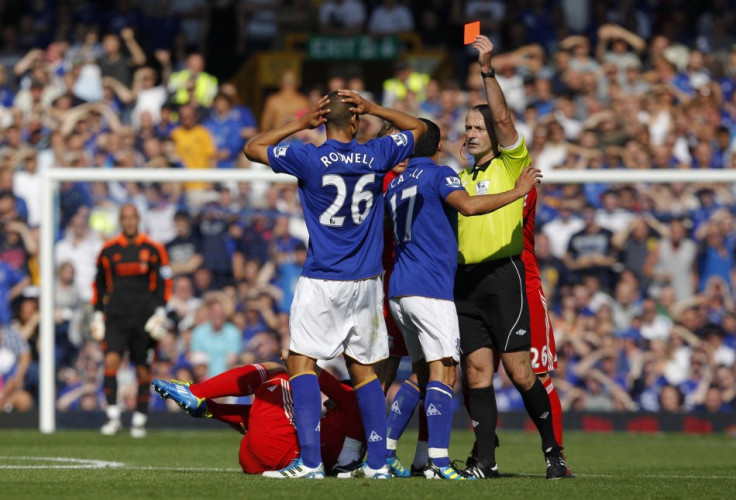 Andy Carroll scored his first goal of the season as Liverpool beat Everton 2-0 in the 216th Merseyside derby.
In front of the watching Fabio Capello, Liverpool's £35m striker chose the perfect time to open his Premier League account - but Everton were left to rue Jack Rodwell's controversial early red card that irrevocably altered the complexion of Saturday's game.
Rodwell was sent off by referee Martin Atkinson after 23 minutes for a dangerous-looking challenge on Suarez. However, a yellow card would have been harsh for what replays suggested was a legitimate, ball-winning tackle.
Thereafter, the prospect of an engaging and evenly-contested match was all but impossible, with 10-man Everton forced to defend for lengthy periods against the inevitable Liverpool onslaught.
The hosts held out until twenty minutes from time. Tim Howard saving smartly from Suarez and keeping out a Dirk Kuyt penalty late in the first half after Phil Jagielka tripped Suarez.
But Liverpool went ahead after 70 minutes when Carroll turned in Jose Enrique's cross before Suarez sealed victory with eight minutes left.
"I had been speaking with Jose [Enrique] and I told him that I fancied getting my first of the season here," Carroll told reporters.
"Before the game I thought 'This is the day'. This is by far the highlight of my time here, easily. Scoring against Everton and beating them at their place is special bit I have got to keep it going."
"The goal is for everyone really, Kenny, the other lads and the fans; everyone who has stood by me. It is a great feeling but it doesn't really matter who scores as long as we get the three points and I thought it was great we did it here."