Premier Oil, an independent exploration and production company, has estimated its average production for the FY 2011 was in line with the guidance at 40.4 kboepd, compared to 42.8 kboepd in 2010.
The group is scheduled to release its preliminary results Thursday and expects its full year total revenue to be in the range of $825 million which was $764 million in 2010. Profits before tax will reflect an estimated $160 million of exploration write-off and a positive adjustment of around $32 million in respect of the group's commodity hedge portfolio and it was driven by the unwinding of previous provisions.
Premier's average oil price realised for the current financial year was $111.9/bbl (2010: $79.7/bbl) (pre hedge) and $89.6/bbl (2010: $78.3/bbl) (post hedge) compared with an average Brent crude price of $111.3/bbl for the year.
The group maintains major cash and undrawn facilities for the full year 2011, ending December 31, are estimated at $300 million and $760 million respectively. Net debt is estimated to be $760 million, compared to $406 million in the previous year.
After the EnCore acquisition, which was completed in mid January 2012, the Premier's pro forma gearing is projected to be 32 percent. Capital spending for the year is estimated at around $230 million (exploration, pre-tax) and $440 million (development).
Gross project costs, including some continuing costs for 2012, for the two important development projects brought on-stream in 2011 were estimated at $792 million for Chim Sáo and $680 million for Gajah Baru, against original budget costs of $800 million and $677 million respectively. The group retains its prior guidance for 2012 production of 60-65 kboepd (annual average) with an expected year-end exit rate of 75 kboepd.
While commenting on the latest trading update, CEO Simon Lockett said: "We are delighted to have met our year-end production target of 60,000 boepd following the successful start-up of our two major projects in Asia during the fourth quarter. We are also pleased to have successfully completed three North Sea acquisitions in recent weeks building on Premier's core assets in the region. We look forward to further significant strides in our development projects during 2012 and to the results of our extensive exploration and appraisal programme which will see around 20 wells drilled over the next 12 months."
Premier Oil continues to gain from its substantial UK corporation tax loss and allowance position with an estimated amount of $1.3 billion of losses and allowances carried forward at 31 December 2011.
Below is a summary of sector comparisons in terms of price earnings, earnings per share, dividend per share, dividend yields, return on equity and price-to-book ratio. The table explains how the company is performing against its peers/competitors in the sector. The table below represents top ten companies based on market capitalisation.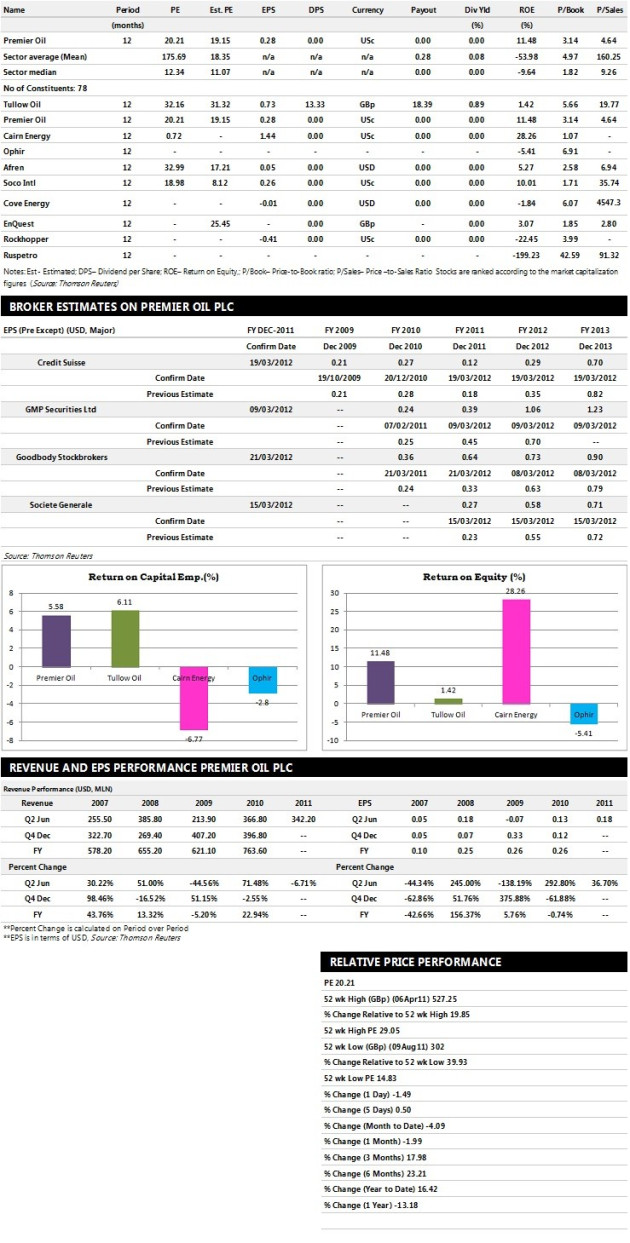 Brokers' Views:

- Goodbody Stockbrokers recommends 'Buy' rating on the stock with a target price of $8.74 per share
- Credit Suisse assigns 'Outperform' rating with a target price of $7.75 per share
- Societe Generale gives 'Buy' rating with a target price of $7.60 per share
- GMP Securities assigns 'Buy' rating with a target price of $7.45 pence per share.
Earnings Outlook:

- Goodbody Stockbrokers estimates the company to report revenues of $825.02 million and $1300.14 million for the FY 2011 and FY 2012 respectively with pre-tax profits (pre-except) of $195.00 million and $592.33 million. Earnings per share are projected at 64 cents for FY 2011 and 73 cents for FY 2012.
- Credit Suisse projects the company to record revenues of $825.00 million for the FY 2011 and $1200 million for the FY 2012 respectively with pre-tax profits (pre-except) of $122.00 million and $324.00 million. Profit per share is estimated at 12 cents and 29 cents for the same periods.
- Societe Generale expects Premier Oil to earn pre-tax profits of $202.00 million for the FY 2011 and $608.00 million for the FY 2012 respectively with net profits of $138.00 million and $317.00 million. EPS is projected at 27 cents for FY 2011 and 58 cents for FY 2012.