President Trump and First Lady Melania Trump have returned to Texas to personally meet with the victims of Hurricane Harvey.
It was the second visit to the hurricane ravaged state, after the President received criticism for his insensitive response to the tragedy during his previous visit.
Arriving at the NRG Stadium in Houston where thousands of victims were taking shelter, the First Lady emerged dressed down in jeans, a denim shirt and trainers wearing a cap with 'Texas' stitched on the front.
The pair were hands on, donning latex gloves to give out Red Cross meal boxes to the families who have been evacuated due to the devastating flood and loading up cars and vans with heavy crates of bottled water.
Appearing to be in good spirits the President and the First Lady shook hands and posed for selfies with some of the victims and volunteers in Houston, while President Trump stopped to kiss the heads of babies. High-fiving a young boy he said there was "a lot of love" and "a lot of happiness" in Texas and praised the "fantastic" cooperation between officials leading the recovery effort.
"I think people appreciate what's been done. It's been done very efficiently, very well, and that's what we want. We've very happy with the way things are going," he said. "A lot of love. There's a lot of love."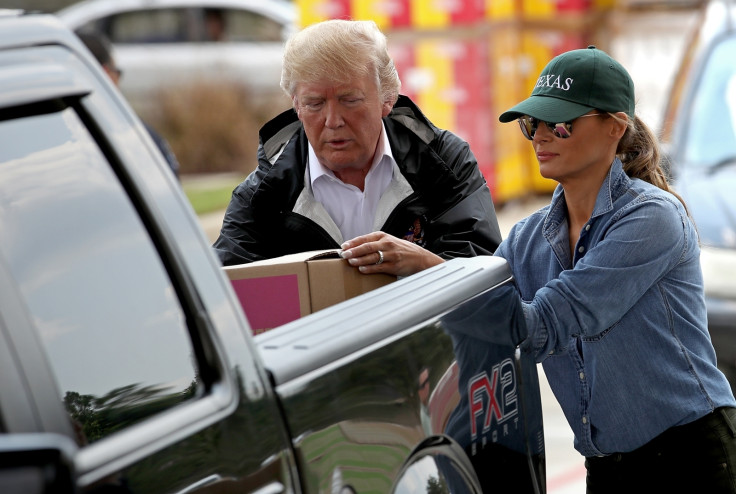 They then went on to a church in Pearland where Trump congratulated Texas governor Greg Abbott and his wife Celia on their role in the relief effort.
'You have a great governor and a great first lady of Texas. Special people,' he added.
'They have worked so hard and the coordination between the federal, state and local governments has been terrific. We're going to keep it going.'
Commenting on the recovery effort he added: "The water is disappearing, we have a long way to go, but the water is disappearing. Yesterday we had water and today it's all swept up and cleared up. That's a lot of hard working people, I'll tell you that."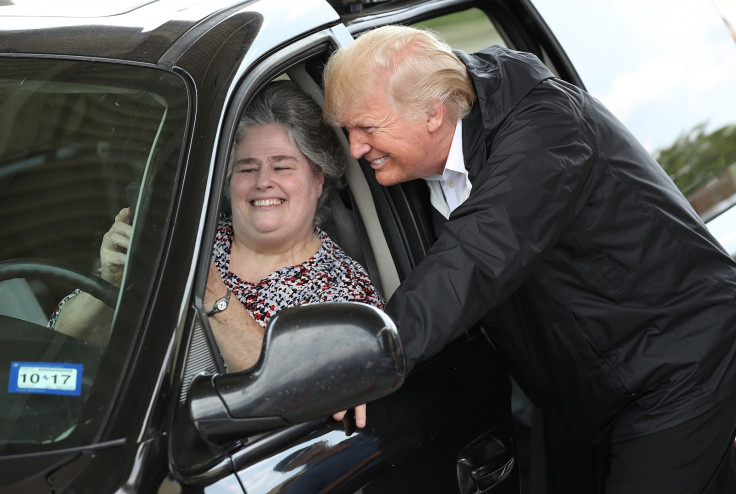 President Trump said the cleanup operation after Hurricane Harvey was expected to take 'two or three years' but hailed the resilience of the people of Texas.
"They say two years, three years. Because this is Texas you'll probably do it in six months," he said, winning a roar of approval from the gathering.
"I think for a lot of places maybe it never gets done. I think in your case it'll get done very quickly."
The President who has requested Congress to give an additional $7.9 billion to the victims of the hurricane said: "We're signing a lot of documents now to get money into Houston. We signed it and now it's going through a very quick, hopefully quick process."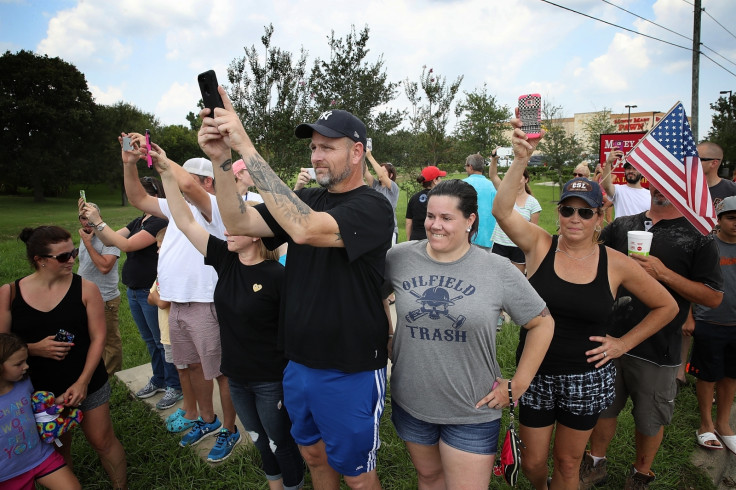 At least 45 people were killed dead and 46,000 Texans were left homeless following the devastating tropical storm which has been heralded as the worst natural disaster to have ever hit the US.
Before leaving Texas Mr Trump tweeted: "We will see you soon. America is with you!"
The President and the First Lady are now headed to Lake Charles, Louisiana which was also affected by flash floods.
In his weekly radio address, the President pledged to help the communities rebuild their homes. "We are with you every single step of the way. We will help you recover. We will help you rebuild. We will support you today, tomorrow, and the day after."
On Friday, Trump met with evangelical leaders to promote his proclamation of Sunday as a national day of prayer for those affected by the storm, along with relief organizations heavily involved in the recovery.
Mr Trump has pledged to donate $1m (£770,000) of his estimated multi-billion dollar fortune to relief funds.