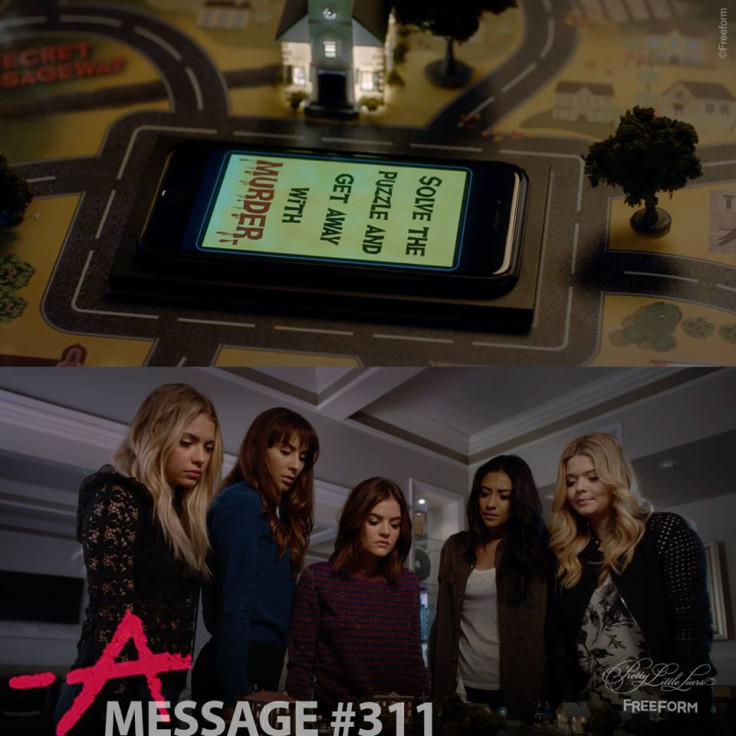 Pretty Little Liars season 7 is just three episodes away from its series finale and a crazy fan theory has emerged online which many believe is true. As of now, the lairs – Alison, Emily, Hanna, Aria and Spencer – are being tormented by another tech-savvy crooked villain.
Until now there is no name to link with A.D. as he/she is hiding behind layers of games that has been created to torture the girls throughout season 7. A Reddit user, however, has come up with a shocking theory about the show. And, fans believe that the show antagonist was right before their eyes but they always ignored the hints due to the sheer innocence on the face of the villain.
According to the fan theory, A.D is nothing but the initials of the name Alison DiLaurentis. Reddit user DrunkHannaRules posted an image of the theory that has the infamous 'kissing rock' with the initials AF+AD written within a heart shape.
"What if the EF+AD written on this rock actually stand for Ezra Fitz and Alison DiLaurentis.Maybee Emily has assumed Ali wrote it about her when Ali meant it for her and Ezra," the Reddit user speculated. Though it sounds crazy at the first place, the theory has loads of substance to convince fans that Ali may be the ultimate villain of the show from the beginning.
As of now, Ali is the damsel in distress as her mother Jessica DiLaurentis, brother/sister Charles aka Charlotte have been murdered. Her aunt (the twin sister of Jessica) joined hands with Elliot Rollins to torment her till she goes mad. And after enduring all that, she is now pregnant with Emily's eggs that were artificially inseminated in her womb.
All of these have made her look gullible and earn sympathy not only from the other characters of the show but also from the fans. But let's go back to season 1 where the queen bee of Rosewood high school used to throw people like they were tissues and plotted the most devious plans to ruin a person's life just to please her own self.
In season 6 midseason finale, Charles/Charlotte confessed that she was the masked villain A and wanted to harm everyone that hurt her favourite sister Alison. The show took a break after the shocking revelations and returned in January 2016 with a five-years time jump in the series.
Apart from Alison, rest all lairs were happily settled in their lives outside Rosewood but they have to come back after Ali requests them and this is the beginning of another chain of torture the girls are enduring till now.
But if the fan theory is true, Ali is trying to revenge the death of Charlotte which she may assume is done by her friends. And she is also in love with Ezra and can't fathom the fact that he is together with Aria. Her confession of love to Emily may be just eyewash to keep playing naive and remain in the game. But ultimately she is still the same old ruthless Alison and has just changed her game to something much crueler than before.
Pretty Little Liars series finale titled Till Death Do Us Part will air on 27 June on Freeform.