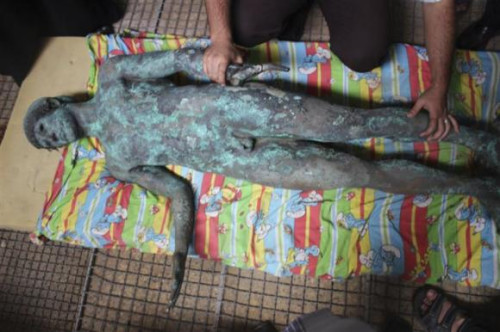 A fisherman from Gaza has stunned the world of archaeology by claiming to have discovered an ancient statue of the Greek god Apollo.
The pricesless 500kg bronze of the youthful figure was said to have been buried in mud at the bottom of the Mediterranean for 2,000 years until it was found during a fishing trip and taken ashore.
But experts are being forced to wait to carry out examinations because the police seized the bronze and removed it from public view.
It had been put up for sale on eBay for $500,000 – a fraction of the statue's true value, which is "priceless", according to a respected historian. The statue was swiftly removed from the site when Hamas police officers took possession and began an investigation.
Jerusalem-based scholar Jean-Michel de Tarragon told Reuters: "It's very, very rare to find a statue which is not in marble or in stone, but in metal.
"It's unique. In some ways I would say it is priceless. It's like people asking what is the [value] of the painting La Gioconda [the Mona Lisa] in the Louvre."
The statue was in excellent condition and still had both arms, although the fisherman who found it, father-of-two Joudat Ghrab, 26, chopped off a finger and took it for tests while his brother did the same to another finger, which was then melted down.
Ghrab insisted that the Apollo was a special to him. "I felt it was something gifted to me by God," he said. "My financial situation is very difficult and I am waiting for my reward."
Doubts have been raised about Ghrab's claim that he fished the statue from the Mediterrean Sea off Gaza. The condition of the Apollo is not consistent with being submerged for centuries, claimed Tarragon.
He said: "This wasn't found on the seashore or in the sea. It is very clean. No, it was [found] inland and dry."
Ahmed Al-Bursh, Gaza's director of archaeology said: "It is a precious treasure, an important archaeological discovery.
"International institutions have contacted us and have offered to help with the repair process."
It is planned for the Apollo to go on display in Gaza when restoration work is complete.