As the Trump administration enters its seventh week, the agenda for the latest saga has already been set: unsubstantiated claims from the president that his predecessor had ordered a wiretap of his phone before he went on to win the White House.
While Trump's presidency hurtles from one fresh chaos to another, the knives are out for his chief of staff, Reince Priebus, according to Politico.
Priebus is finding himself under increased scrutiny as Trump's aides and allies point the finger at him for weeks of dysfunction.
The complaints against Priebus reported by Politico range from his failure to provide structure and a clear agenda, constantly appealing to staffers not to leak stories to the press, attempting to pack the administration with loyalists, dictating presidential access and simmering tension with senior administration officials.
"There's a real frustration among many – including from the president – that things aren't going as smoothly as one had hoped," a senior official said on condition of anonymity. "Reince, fairly or not, is likely to take the blame and take the fault for that."
Another White House official said: "It's sheer incompetence." They added: "There's a lack of management, and a lack of strategy."
As reports of discontent swirled around Priebus, administration officials denied the notion that the chief of staff is losing the president's confidence and ruled out a staff shakeup in the near future.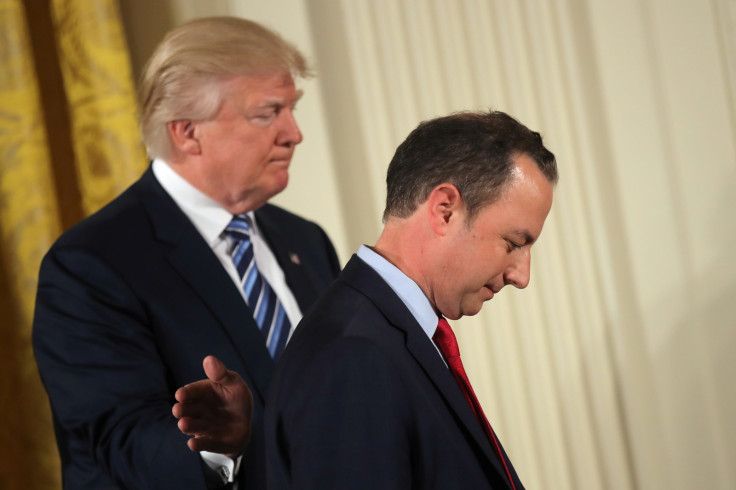 "We're implementing President Trump's agenda in record time and fulfilling one campaign promise after another," White House chief strategist, Steve Bannon, said in a statement. "That shows you what a great job Reince is doing."
Jared Kushner, another senior adviser and Trump's son-in-law, said Priebus "continues to be a strong and effective leader."
But despite the efforts to dispel reports of dissatisfaction around Priebus, they continue to persist.
Last week, Attorney General Jeff Sessions found himself in the eye of the storm over his contact with the Russian ambassador during the election campaign. During his confirmation hearing, Sessions maintained he had "no communications with the Russians".
The Sessions saga had reportedly enraged Trump, who summoned his senior aides to the Oval Office on Friday (3 March) to vent his anger over the attorney general's recusal from investigations into Russian interference into last year's presidential campaign.
As reports of Trump's dressing down began to filter out, the White House chief of staff – who previously attacked the press for using anonymous sources – spent a significant chunk of his time trying to kill the story off the radar.
"As reporters began to hear about the Oval Office meeting, Priebus interrupted his Friday afternoon schedule to dedicate more than an hour to calling reporters off the record to deny that the outburst had actually happened, according to a senior White House official," the Washington Post reported.
"Ultimately, Priebus was unable to kill the story," it continued. "He simply delayed the bad news, as reports of Trump dressing down his staff were published by numerous outlets Saturday."
One official who observed the domino effects of bad press for Priebus said: "Every time there's a palace intrigue story or negative story about Reince, the whole West Wing shuts down."