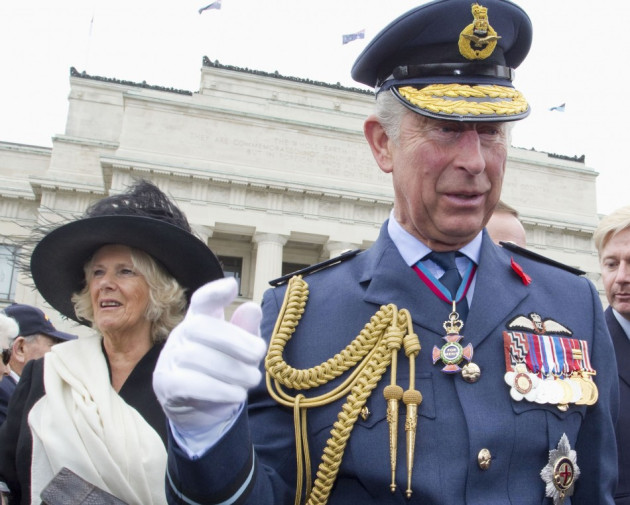 An anti-royalist pensioner from Auckland who planned to assault Prince Charles and Camilla was arrested moments before the couple arrived in the New Zealand city today.
The 74-year-old, Sam Bracanov, was seen on CCTV in downtown Auckland preparing to commit the assault. Police said he had an object with him, but would not say what it was, TVNZ said.
Charles and Camilla arrived in the city to greet thousands of people on their tour of New Zealand.
Bracanov is due to appear in court tomorrow. A family member told ONE News that they had tried to contact Bracanov the morning of the planned attack but could not reach him.
Other anti-royalist protesters were present when the couple arrived today. One said: "We don't tolerate royalist fools poncing around," and another, named Kerry Bevin, told Charles and Camilla to "go home and don't come back."
New Zealand Police said in a statement: "[Bracanov] will appear in the Auckland District Court tomorrow charged with preparing to commit a crime, namely assault.
"Arresting officers had identified the man as a known anti-royalist who was, when arrested, at a royal itinerary venue although neither of the royal visitors was in the vicinity at the time."
According to Sky News, a source said this was an isolated incident and Charles and Camilla were "warmly" welcomed to Auckland.
When Prince Charles visited New Zealand in 2005, two women were arrested for protesting. The women, both in their 20s, were bare breasted and were arrested for disorderly behaviour.
Rob Pope, Wellington Police District commander, said the arrests took place just before Prince Charles was about to go into the Wellington City Gallery.
"Officers dealt quickly with the incidents and security was not compromised," he said.