Prince Charles has spoken of his delight at the arrival of his new granddaughter Princess Charlotte.
Speaking during his first public engagement since the Duchess of Cambridge gave birth on Saturday, the Prince of Wales said: "I really was hoping for a girl," adding that he fully intended to spoil his new granddaughter.
As he toured the model town development, Poundbury, near Dorchester, Dorset, the prince told well-wishers: "She is beautiful. I was hoping for a grand-daughter - someone to look after me when I am very old."
After a brief stop at a local coffee shop the Prince was presented with a rose which has been named after the princess.
"A Charlotte Rose? You have managed to do that already? How marvellous," said the prince. "How jolly nice to see it. It will look beautiful in my gardens," he said proudly.
Speaking to researchers at the Poundbury Cancer Institute, where he was opening a new research facility the Prince said: "'I am really rather thrilled."
After unveiling a plaque to officially inaugurate the institute, the royal was presented with bouquets of flowers by sisters Sophie and Zoe Taibjee, aged five and three.
"Well these are just lovely, thank you so much. Did you get them from a shop?" he asked. "No, the kitchen," said Sophie.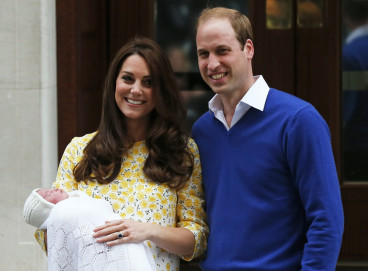 Charles has visited his grand-daughter twice since she left the Lindo Wing at St Mary's Hospital, before William and Kate left Kensington Palace with their family to live in Norfolk. They are expected to remain there for most of the summer with Kate's mother Carole Middleton helping the new parents to adjust to two children.
Poundbury is his experimental new town on the outskirts of Dorchester, built on land owned by the Duchy of Cornwall. The development has been modelled on Charles's principles of urban regeneration, with mixed private and social housing, aesthetically pleasing and eco-friendly homes - and even a ban on satellite dishes.