At just two and a half years old Prince George has marked another major milestone – starting nursery. On Wednesday (6 January) the future King of England made his way into Westacre Montessori nursery for the first time where he officially kick-started his early school life.
Kate Middleton shared snaps of the important moment with the public on social media. In the two photographs posted on Kensington Palace's Twitter account, her blond-haired son smiles as he stands outside the nursery.
One image of the youngster looking at the camera was captioned: "Prince George arrives for his first day at nursery in Norfolk earlier today." While the second, of him pointing at a mural read: "The Duke and Duchess have released 2 photos to mark Prince George's first day at Westacre Montessori School nursery."
For his big day, his extremely proud parents made sure he was wrapped up warm in a navy quilted jacket with a tartan-lined hood and brown patched work, he completed the look with a light blue rucksack.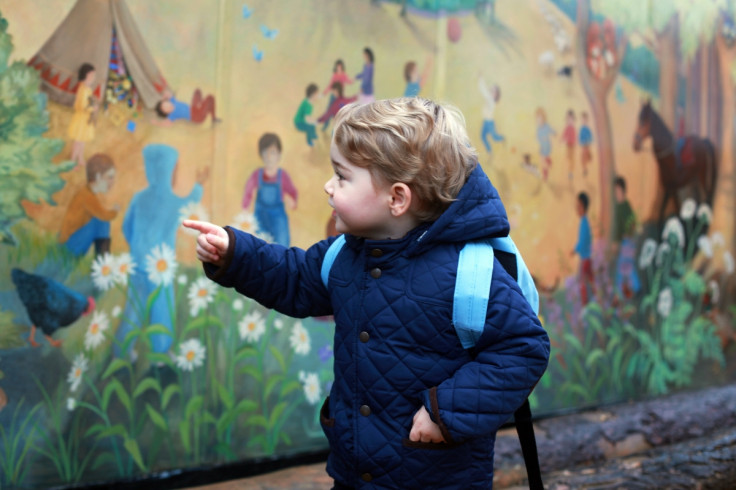 The prestige nursery is located near King's Lynn, close to the Duke and Duchess's Anmer Hall residence at the Sandringham Estate. The young royal will attend the nursery, which is believed to start at £5.50 ($8) per hour or £33 per day, on a part-time basis. It has not been revealed how much his parents are paying for Prince George's attendance. A source told the Mail Online that day one "went well" with little George spending only a couple of hours at the school to help aid the transition.
As Prince William and his younger brother Prince Harry attended Montessori schools, George is continuing the family tradition. Back in December, a spokesperson for the nursery said they were looking forward to welcoming George.
Invented by Italian Maria Montessori, the school's method of development and learning is to encourage the child's independence. The Montessori website explains: "In Montessori schools the child is seen as a dynamic learner, full of creative potential and in need of the maximum possible freedom to be allowed to develop as a happy, confident individual."