Prince Harry's official Christmas card captures touching moment with RAF war hero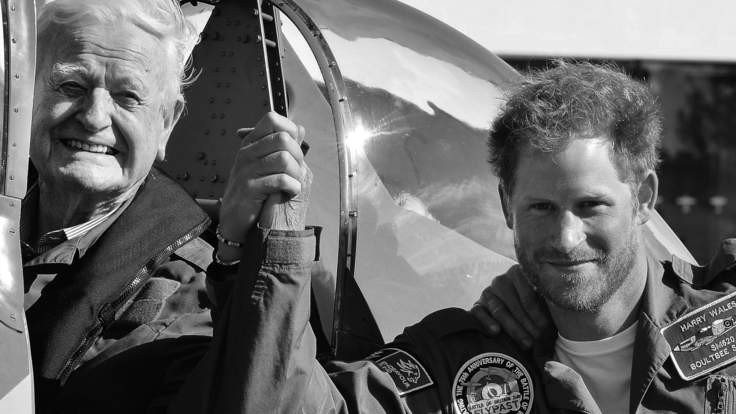 Prince Harry has paid a poignant tribute to a war veteran in his official 2015 Christmas card. He described the photo, taken with 95-year-old RAF veteran Tom Neil, as "one of his most memorable moments" of the year.
The 31-year-old royal gave up his chance to take part in this year's historic Battle of Britain flypast, marking the 75th anniversary of the conflict, instead allowing the RAF hero to take his place.
Neil was due to fly in one of four two-seater Spitfires taking part in the event, but almost missed out after one of the planes had a mechanical failure. Prince Harry, who was celebrating his 31st birthday that day, graciously allowed Neil, who is an ex-wing commander and Hurricane and Spitfire pilot, to take his place.
A Kensington Palace spokesman said that Prince Harry "considered it a great honour to meet Tom during the Battle of Britain flypast in September. It was one of his most memorable moments of 2015."
The royal family has released its official Christmas cards, with the Duke and Duchess of Cambridge sharing an informal photo, while the Prince of Wales and the Duchess of Cornwall's Christmas card, shows the pair together on holiday in Scotland.
© Copyright IBTimes 2023. All rights reserved.