Prince Harry had an emotional reunion with a child he met 11 years ago at a centre in Lesotho, Africa. The royal greeted 15-year-old orphan Mutsu Potsane with a bear hug, revealing the 'unshakeable bond' the two have shared since they first met when Mutsu was just four.
The pair were first introduced at the Mants'ase Children's Home for orphans near Mohale's Hoek, outside of the capital Maseru. During the trip in 2004, Prince Harry met many vulnerable children, but Mutsu seemed to take a shine to the royal clinging to the Prince who showed him so much kindness. Harry too was taken with the toddler and presented him with a pair of blue wellington boots which Mutsu treasured, even wearing them to bed.
The unlikely friends have been in close contact ever since and Harry has made a point to always meet Mutsu during his visits to Lesotho over the years. Today (26 November) they were reunited again on a football pitch as Prince Harry opened a new centre for children with HIV and AIDS, the Mamohato Children's Centre.
Now 14, Mutsu has been part of Harry's Sentebale's Scholarship programme and one of many children who have benefited from residential care and financial grants as a result of the charity's help. This time it was Mutsu who gave the Prince a gift, a traditional walking stick and a blanket, also traditional to the Basotho people. The fifth in line to the throne chatted and joked animatedly with his young friend as it was revealed that Mutsu frequently writes to Harry. Earlier Sentebale released one of his letters, written to Prince Harry shortly before his visit to Lesotho in December 2014, to keep him posted on how he was getting on.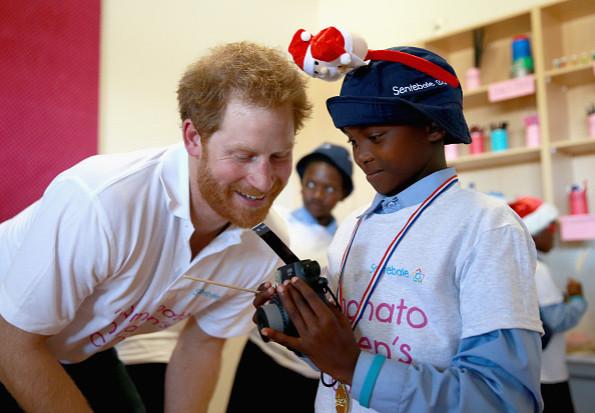 In the letter Mutsu writes that he has been doing well since the last time they met and he recalls fondly the first time he met the Prince. "I think of the time were [sic] together, it was the good and nice day. Every day when I am sleeping I always dream about you and the things we have made such as planting of the trees which is the peach trees. I feel very happy when I dream I remember about you because you have been with me from my childhood and you have bought me the blue gum boots," said , signing the letter 'from your loving friend'.
Describing their friendship he said: "'I felt very happy, very excited. I'm very comfortable around Harry, he is very comfortable around me. We click."
The Prince was still grieving the sudden loss of his mother the late Princess Diana when he first met the children at the centre during his gap year. Commenting on the connection he forged with the children he said: "Although our experiences were very different we shared an overwhelming sense of loss."
Of course Prince Harry is known for being the mischievous younger royal and he relished in playfully joking around with the children as they all posed for photos during a workshop. Relebohile Mokemane, who was running the session, said: "The children were so excited to meet Harry and that he made sure everyone, even the most apprehensive children, became involved. They were taking pictures with the kids, they really enjoyed the session and had fun with us. We wanted them to show us different emotions, confused, a happy face then they did dressing up. Prince Harry is very fun, he engages with them. Someone might be sitting there and not doing very much and he brings them in."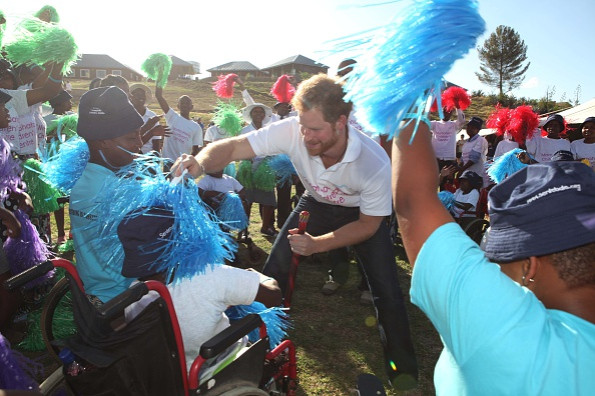 The ground-breaking new Mamahoto Children's Centre will provide care and education for 1,500 children a year in the poverty-stricken kingdom of Lesotho, which despite being one of the smallest countries in the world has the second highest rate of HIV/AIDS.
The centre has been funded and built in just three years by the charity Sentebale, which Harry co-founded with Prince Seeiso of Lesotho after falling in love with the country and its people when he first visited during his gap year at the age of 19.
Following his trip to Lesotho, Harry will continue on to Cape Town, South Africa, where he will play in a charity polo match to raise funds for Sentebale. Harry will then launch a four-day tour of South Africa on official royal duties. The tour "will focus on a number of key themes, including understanding South Africa's recent history, the issues and opportunities for young people in South Africa today and the importance of wildlife conservation," Kensington Palace said.