Prince was not a fan of the Kardashians. So much so, in fact, that he refused to let them star in the episode of New Girl where he made a guest appearance, according to Zooey Deschanel in an interview on US TV talk show Conan screened on 9 May. Ouch.
The late media-shy singer was such a fan of the US sitcom that he contacted the producers about making a cameo appearance in 2014. Deschanel told Conan: "He'd spent a lifetime cultivating mystique, and then one September day – three years ago, maybe – I got an email from his manager saying that he liked watching the show and wanted to come on."
But the Purple One had rules about who could and could not star alongside him, and a Kardashian simply wouldn't do. Having had a bit of history with Kim Kardashian after he told her to "get off the stage" when she briefly made an awkward appearance at one of his shows in 2011, he still wasn't keen on the reality star a few years on.
Discussing Prince's less-than-fervent attitude towards the famous family, Deschanel revealed that he wasn't pleased to learn that the Kardashian clan were set to star in his episode of New Girl.
The episode in question involved a party scene, for which Kris Jenner and Khloé Kardashian had already filmed cameos.
Deschanel said: "I get there the day Prince is supposed to arrive, and I'm studying my lines, and one of the PAs comes in, and she says, 'I need all of the [scripts].' She takes mine from me and takes everybody else's, and [she] takes everyone's call sheets... I'm like, 'What is going on?' I walk outside, and she has, like, a bonfire. She's burning all the scripts and the call sheets.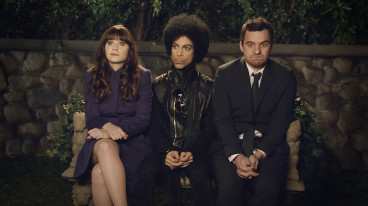 "It turns out that someone from Prince's camp said like, 'Who are the celebrities? I hope it's not a Kardashian,' which is sad, because I think Khloé Kardashian and Kris Jenner had kindly come in and shot the scene – they didn't want anyone to get by each other.
"I felt so bad because everyone had gone out of their way to be there on that day, but Prince was running the show," she continued.
Deschanel isn't the only actress to confirm Prince's dislike of the Kardashians, with her New Girl co-star Lamorne Morris also claiming the music icon wasn't a fan of a certain famous family during a recent episode of Doug Loves Movies.
"We had these very famous celebrities—they're like a family of famous people that are in the world; I'm not going to say who they are, but there's a whole bunch of them—so they were on our show."
He added: "Prince shows up early, so he's sitting in video village, and he's watching the screen, and he goes, 'What are the blank-blanks doing here?' They said, 'Well, they're in the show. They've been invited to a Prince party.' He goes, 'They would never be invited to a Prince party'."
And see below for a fan-filmed video of Kim's brief appearance on stage with Prince during his 2011 Welcome 2 tour.