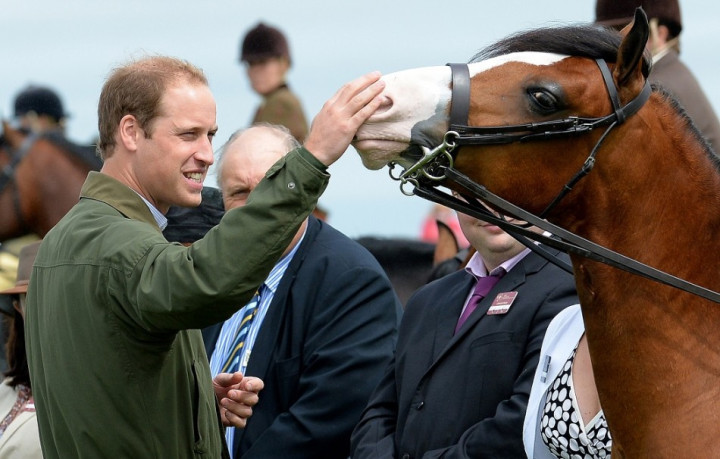 Prince William left Kate Middleton and baby George behind to complete his first official engagement since his son's birth at the Anglesey Show in north Wales.
The Duke of Cambridge has appeared just once since Prince George was born at St Mary's Hospital in London on 22 July, when he played a charity polo match at Coworth Park in Ascot with his brother Prince Harry.
William visited the annual show in Anglesey, where he is stationed as an RAF search and rescue pilot, on the second of the two-day event.
The Duke arrived to wet weather and was introduced to civic dignitaries, including the newly-elected assembly member Rhun ap Iowerth.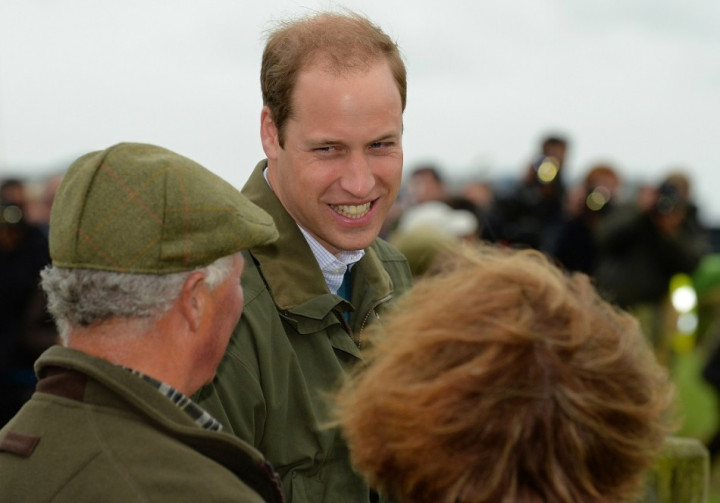 He watched gundog and falconry displays as well as cattle judging, met with Young Farmers and visited the central show area, after which he was presented with a gift by the event organisers.
Before the event, organiser Frank Morrey told the BBC: "I know he likes spaniels and we'll be having a pair running out for him.
"He'll be able to see how the Cocker Spaniels are when they are put to work."
At the dog show, William joked that he would have brought his own dog, Lupo, but his pet would not have performed as well as the other Spaniels: "He would have just run off and never come back again. It would have been very embarrassing," ITV quoted him as saying.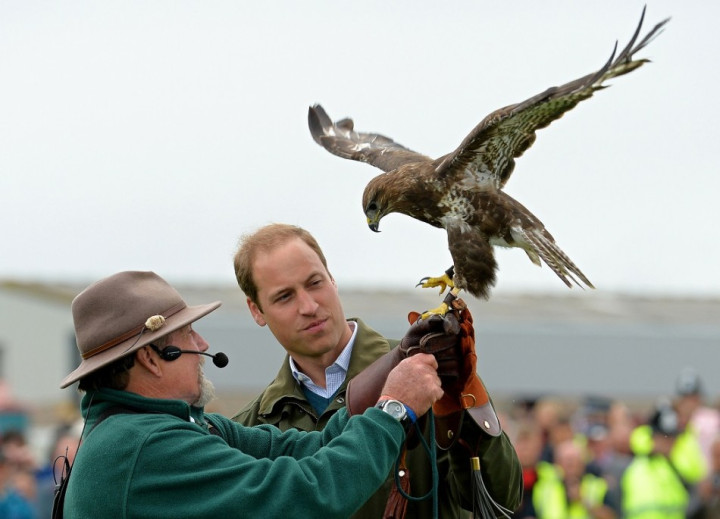 William also tried his hand at falconry, with his own glove presented to him by Sophie Large, 11, who is the daughter of falcon master Terry Large. She told the BBC he was "kind and very nice", adding: "It was very special, I know it is privilege to be able to meet him."
Caroline and John Roberts, who also spoke to the Duke, said: "He was lovely, a real gentleman. We asked him how the baby is - he said he was fine but had his moments."
When asked about Prince George by another onlooker, William added: "He's pretty loud and of course extremely good-looking."
The Duke has lived in Anglesey with Kate since September 2010. At the show, he expressed his gratitude to the community and announced he and Kate will be leaving their home there at the end of September.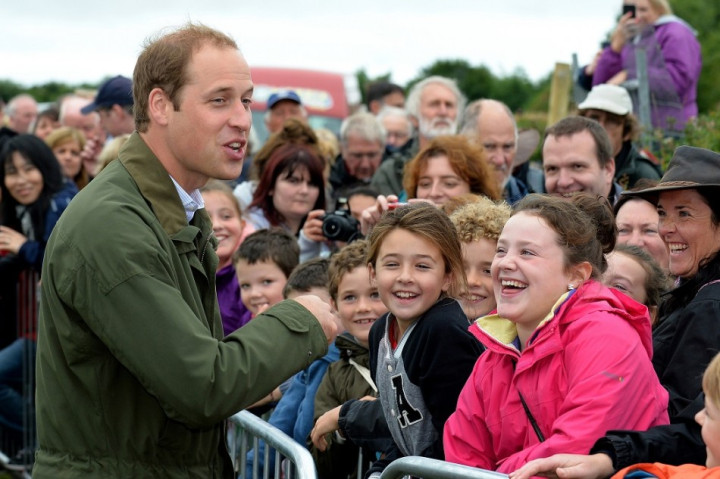 He said: "I know that I speak for Catherine when I say that I have never in my life known somewhere as beautiful and as welcoming as Anglesey.
"I know that both of us will miss it terribly when my tour of duty comes to an end next month and we have to move elsewhere. This island has been our first home together, and it will always be an immensely special place for us. Catherine and I look forward to returning again and again over the coming years with our young family. "
It is expected William will leave Anglesey for London, where he will take up residence with his wife and son at their 57-room apartment at Kensington Palace.
Robert Jobson, royal editor of the Evening Standard, said: "Prince William has enjoyed his day job as a search and rescue pilot and just being one of the guys.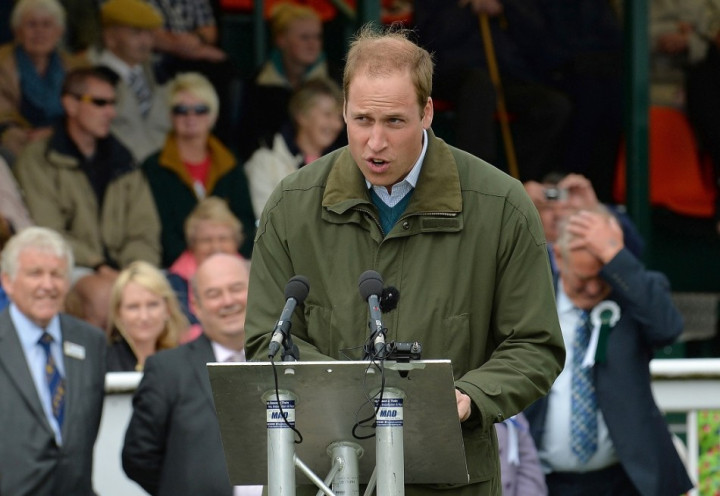 "But there is now pressure on the Duke going forward and he must decide where his career goes next.
"The most important factor is that the Queen, aged 87, and the Duke of Edinburgh, aged 92, are now going to be slowing down quite dramatically, so there'll be a need for William and the Duchess to take on a greater role."
The Anglesey Show is the largest two-day agricultural event in North Wales. It attracts over 55,000 people and includes a collection of 300 cattle, 800 sheep and 350 trade stands.