Prince William attends Tusk Trust Conservation awards without wife Kate Middleton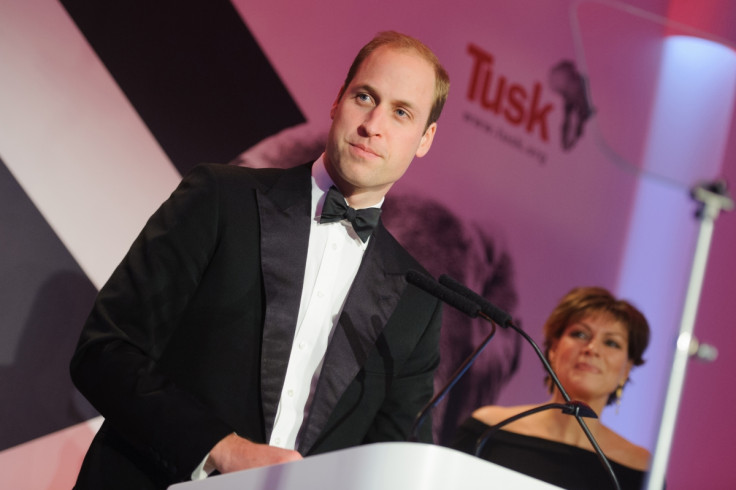 As wife Kate Middleton took care of the children, Prince William spent his Tuesday (24 November) night attending the annual gala awards night for his conservation charity, the Tusk Trust. The 33-year-old royal father of two handed out the awards for wildlife conservation work.
According to People Magazine, William met several winners before the awards ceremony during an afternoon gathering at the prince's London home, Kensington Palace. Among the attendees were Edward Ndiritu, winner of the Tusk Wildlife Ranger Award, and Namibia-based Garth Owen Smith, winner of the Prince William Award For Conservation In Africa. The three finalists for the Tusk Award for Conservation in Africa — Dr Emmanuel de Merode (Democratic Republic of Congo), Cosmas Mumba (Zambia) and Dr Mary Molokai (Liberia) — also met with William at Kensington.
Ndiritu, whose award was announced over the summer, was commended for his "outstanding commitment to helping combat the escalating threat from poachers, and for heading a security operation which covers more than two million acres," William's office announced.
People Magazine reported that William gave a speech during the gala event, touching on the importance of wildlife conservation."People often ask me why I am so passionate about this cause," William said. "There are many reasons but one of the most obvious is because of the human impact. As the world's population becomes more and more urbanized, an increasing number of people will grow up with little or no connection to the natural world. If people cannot see it, they will never learn to value it, or worse still will take little interest in looking after it. The planet and our natural resources is not something we can afford to squander."
The prince concluded his speech by thanking the winners of the Tusk Trust awards. "There is much to be positive about, as our winners and finalists have highlighted this evening," he noted. "I share with optimism with all of you that we can win this battle. And we will win this battle by working together and by having a collaborative approach across the whole spectrum."
William is not the only member of the royal family to work closely with conservation efforts. Younger brother Prince Harry spent his summer working a three-month-long "dream job" of conservation efforts in Namibia. This month, he will return to Africa to open a new centre for his children's charity Sentebale in Lesotho and will also head to South Africa, where he'll focus on the country's youth, history and wildlife conservation work.
© Copyright IBTimes 2023. All rights reserved.