Duke and Duchess of Cambridge: 'Competitive Kate' challenges Prince William in first ever abseil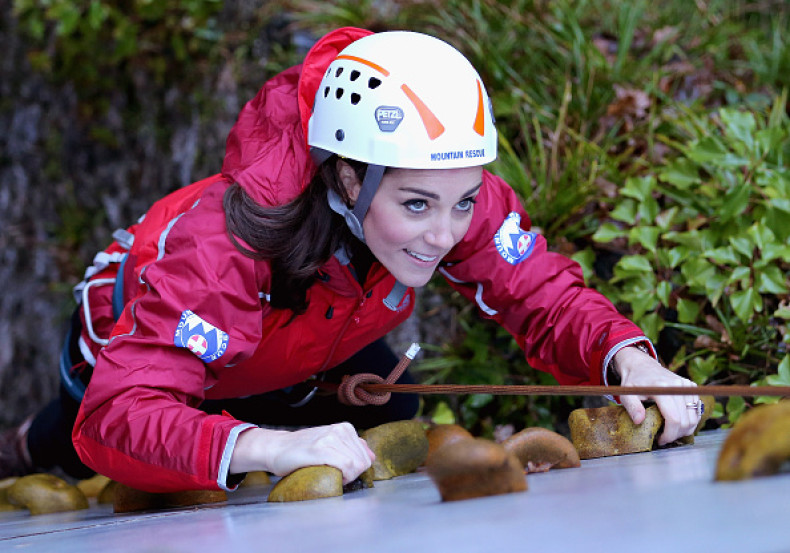 The daring Duchess of Cambridge showed off her adventurous side as she abseiled down a wall on a visit to an activity centre in North Wales on Friday (20 November). Kate and her husband, Prince William, were in North Wales for the day to highlight charity work focusing on young people's mental well-being.
Earlier, the royal couple visited The Towers Residential Outdoor Education Centre, situated in Snowdonia National Park, where children from Holyhead High School had joined the mountain rescue team for a day of activities.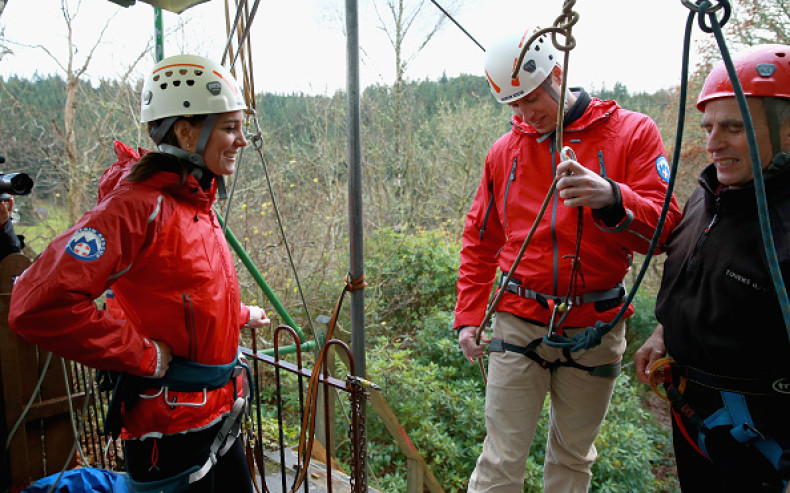 They then changed into more suitable attire to join representatives of Mountain Rescue England and Wales, for a climb at the Towers Residential Outdoor Education Centre in Capel Curig, of which the Duke is patron. William took the lead for the challenge as his wife held the rope. "Are you holding me?" he shouted. "I've got you," she laughed. Kate added cheekily: "I'm quite enjoying this actually. For once I'm in control."
Proving that even princesses can brave the great outdoors, the sporty royal, togged up in black jeans, brown boots and a helmet, took her turn for her first ever abseil. As she stepped backwards over the edge of the 40 foot wall, she hinted at her nerves. "This is the aggghhhhh moment!" she said. However, her beaming smile belied any fears she might have had, as she expertly abseiled backwards down the wooden wall.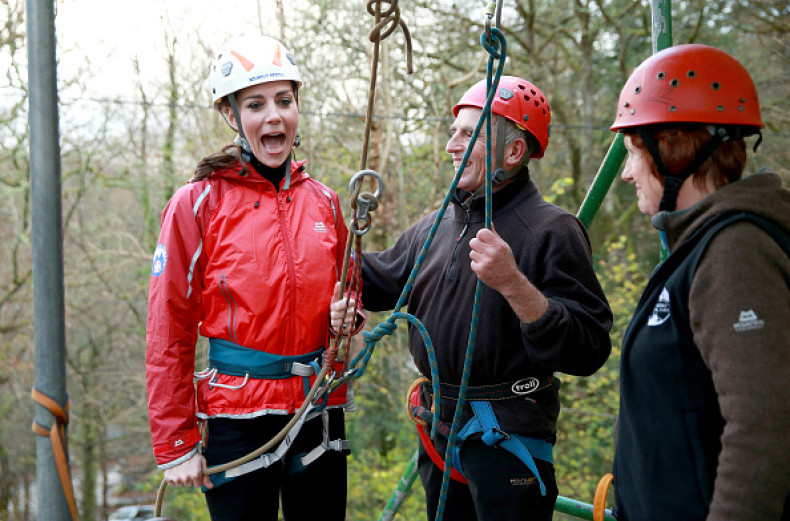 Revelling in the experience as she tumbled down the wall she asked her husband: "William – how much do you love me?" The couple's competitive spirit was very much in evidence as they reached the bottom of the wall and Prince William tied to climb back up it. Watching him Kate commented: "Not that we're competitive but if he does that, then I'm having to do it too!"
The Prince fell off as he was almost half-way up the more difficult section of the wall, but doggedly continued till he reached the top. Instructor Phil Blain, 64, who helped the couple abseil, said: 'If that was Kate's first abseil she did fantastic. And that was probably the first time she's held the life of the heir to the throne - and her husband - in her hands.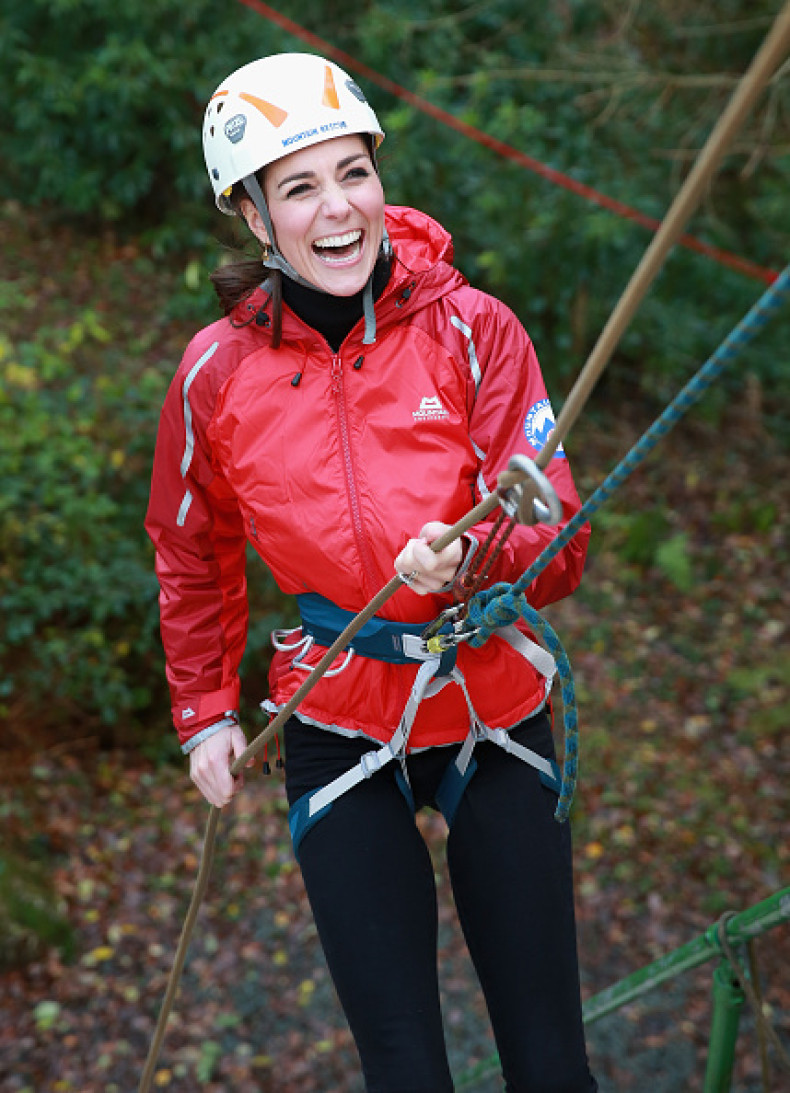 "At the bottom, William tried the more difficult climb first but sadly he slipped off almost half way up as it was very wet. He was on a rope so he was fine but he chose the easier side afterwards."
The couple were visiting the Towers Residential Centre as it had agreed to host a day of outdoor activities for children from some of the charities they support.
Mountain Rescue Chairman Mike France, 63, said: "William asked us if we could help some of their vulnerable children from WellChild, Child Bereavement, Place2Be and Centrepoint, which we were delighted to do. It's been a really fun day and the couple had a great time."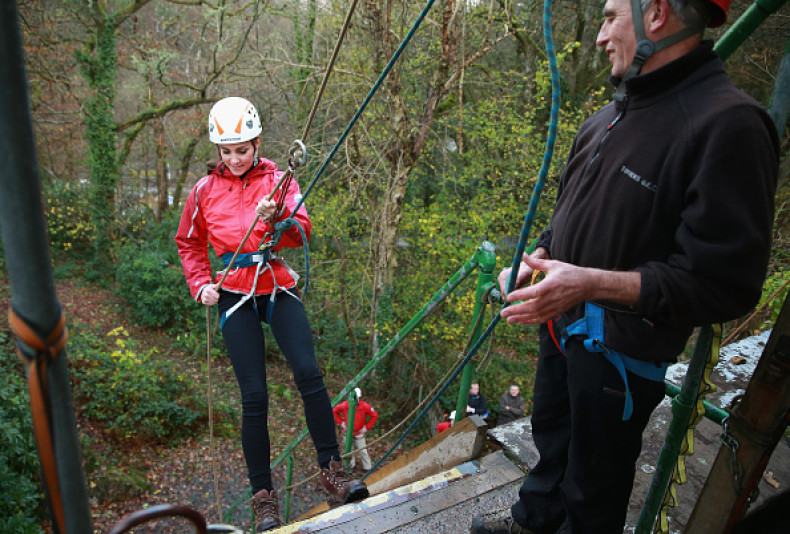 Kate and Williams were of course back on home turf, having lived in Anglesey as newly-weds when the prince worked as an RAF search and rescue pilot. "I love it here. I really miss being here, being outside and in the mountains," said the Duchess.
The royals also viewed a photography project run by charity Mind in Caernarfon, Gwynedd, where they chatted to young people taking part in photography and art projects with mental health charity Mind.
William and Kate spent several minutes talking to the youngsters from Coleg Menai, which works alongside Mind, who showed them their photographs and artwork.
Lizzie Wintle, 25, from Anglesey, showed the couple three photographs of herself on a beach exhibited alongside an extract of writing that described jer struggles with anxiety and obsessive compulsive disorder.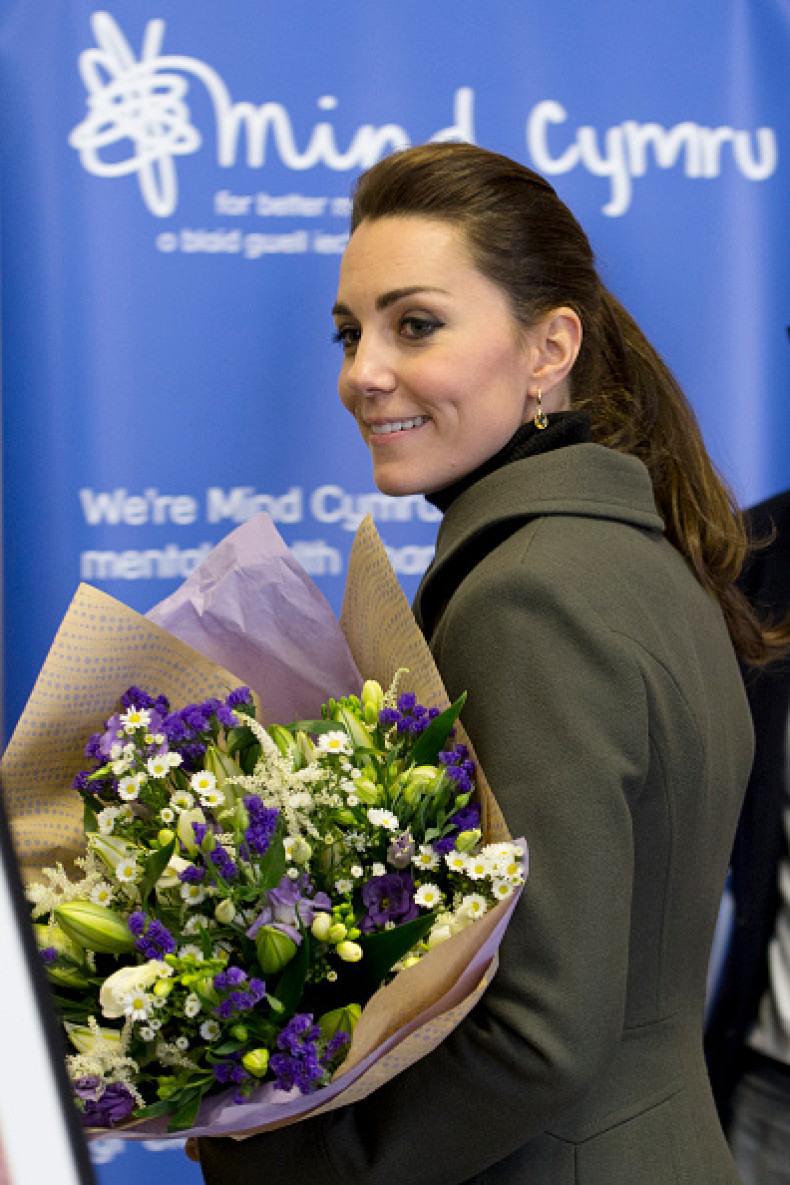 Describing her meeting with the Duke and Duchess she told Mail Online: "I was telling them how I was being a part of this project and telling my story to try to get others to tell their story.Kate was asking about my photographs and what beach they were taken on.
"She was saying it's really important to keep talking about it and for all of us here to keep talking about it. I think it's really good they're focusing on a charity like this."
Sara Moseley, Director of Mind Cymreu, said: "Mind works with thousands of young people in Wales every year. It's clear to us that the level of need and mental health problems and distress among young people is growing really rapidly. The figures that we have across England and Wales are showing a rise in mental health problems across the board among young people. The levels of self-harm among young people in Wales are the highest in the UK.'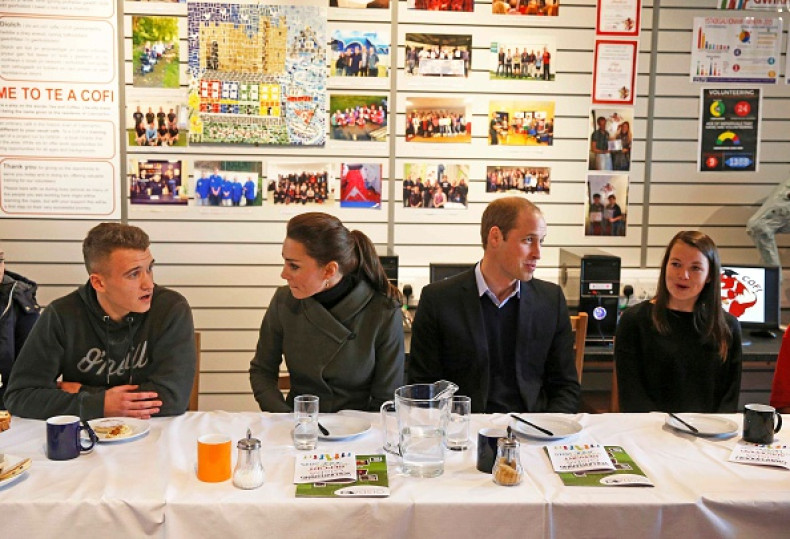 She added about treatment: "With Mind you can walk in and ask for help, you don't have to go on a waiting list. A lot of young people are saying to us there's a terrible stigma and discrimination about talking about mental health problems and admitting they're mentally ill. And secondly when they finally get round to talking about it and asking for help, the help might not be there or it might be the wrong kind of help."
Mind has four offices in North Wales and also goes into colleges and communities. They offer one to one services as well as groups which encourage young people to talk to each other and take part in projects like the art and photography which also result in exhibitions in the community.
Sara said Kate and William's efforts to raise awareness of mental health issues was 'invaluable'. She said: "It's difficult to raise a proper understanding of mental health problems. It's a tribute to the Duke and Duchess that the young people are relaxed about telling their stories. Also in terms of raising the profile and recognition and reducing the stigma it's invaluable."