Prince William has played host to some of the world's most famous female celebrities at a royal dinner in Windsor.
The Duke of Cambridge threw a star-studded dinner at Windsor Castle on Tuesday night to celebrate the work of The Royal Marsden, the specialist cancer treatment hospital in London of which Prince William is president.
Prince William took up the role as the hospital's president, a position once held by Princess Diana, in 2007.
Guests at the dinner gala included actresses Cate Blanchett, Emma Watson, Zhang Ziyi and Helena Bonham-Carter, as well as models Kate Moss, Cara Delavigne and Jessica Michibata.
The other A-list celebrity guests who attended the dinner were Sherlock Holmes actor Benedict Cumberbatch, Downtown Abbey stars and American fashion designer Ralph Lauren and his wife Ricky Anne Loew-Beer.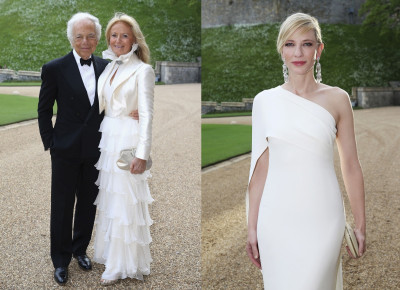 William hosted the event without Kate Middleton and was quick to apologise to guests for her absence.
"I'm sorry my wife's not here, you probably would far rather you saw my wife," the 31-year-old Duke told Lauren and his wife, according to Daily Mail.
"Not at all," replied Lauren, saying that he was excited about meeting Prince William for the first time.
The 74-year-old veteran designer is funding an entire new breast cancer research centre at the hospital's Chelsea site.
"It's a wonderful thing you're backing, it will be another great addition to the hospital," William told Lauren describing his decision as "incredibly generous".
"I am enormously grateful to Ralph Lauren for his generosity, and to all of you who so kindly support the hospital. You should know that what you do saves lives and gives hope to thousands of people," the Duke said in a speech before the meal.
An estimated 220 guests including philanthropists, stage actors and actresses and people from the fashion fraternity attended the royal dinner.
This was William's second solo engagement since his return from New Zealand and Australia tour. He attended the rededication ceremony of the only surviving British Second World War-era submarine, HMS Alliance, at the Royal Navy Submarine Museum in Gosport, Hampshire a day before the dinner gala.