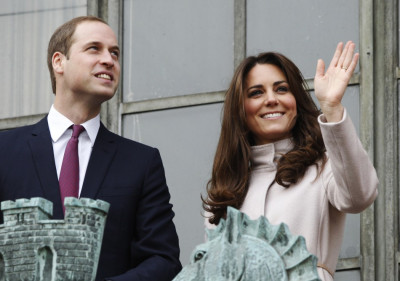 The Duke and Duchess of Cambridge have made their first official visit to their namesake city.
Before the trip, Kate Middleton admitted that she had never been to Cambridge. Prince William said they had both been looking forward to the visit since they got married in 2011.
"This is a day Catherine and I have looked forward to for a very long time - 18 months, in fact," he said.
"We both feel immense pride at being associated with Cambridge, a place renowned the world over for its dynamism, beauty and learning.
"It's not the first time I've been here. My brother Harry and I were fortunate enough to come to Cambridge five years ago, when we spent a couple of days at Trinity.
"I have to say, it's the closest Harry's ever got to university.
"This university has more Nobel Prize Winners to its name than all but a couple of countries.
"That fact alone must shake even that other place along the M40 - it that must not be named - to its very foundations."
The Duke and Duchess made the 48 minute journey on a First Great Western train and they were greeted by the Hugh Duberly, Lord Lieutenant of Cambridgeshire, who joked that the royal couple had come to claim the city.
Hundreds of people lined the streets to welcome Prince William and Kate, who first visited the Guildhall and made an appearance on its balcony.
They then walked to the Cambridge University, where they attended a private reception at Senate House.
Later today, the couple will conclude their visit by officially opening the new centre at Jimmy's Night Shelter on Arbury Road.
The shelter said three of its guests will be allowed a private meeting with Kate and William in order to discuss their personal stories in more depth. A plaque created for the shelter by the Cardozo Kindersley workshop in Cambridge will also be unveiled.
"Once this has been unveiled, former guest, Twigg, will present the couple with one of his artworks painted specially for the occasion," the charity said.
Kate Middleton Shows Off New Hair Style at the Natural History Museum Gallery Opening [PHOTOS]