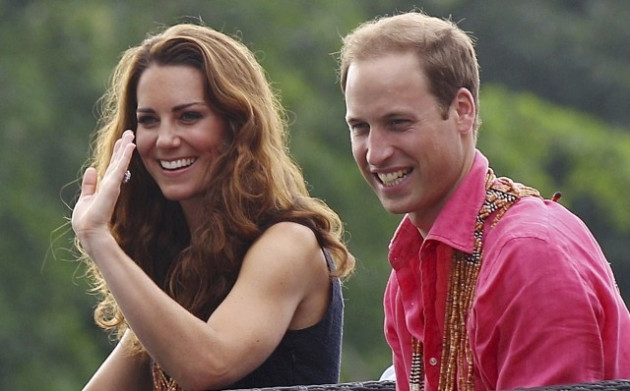 It's a good thing Kate Middleton and Prince William are getting ready to move into a bigger home as they will need space for the 127 gifts they received during their first official overseas tour last year.
St James's Palace has released a list of all the items given to the Duke and Duchess of Cambridge during their 2012 tours. And although jewellery and ornaments featured highly, there were also some more unusual gifts.
While visiting the Polynesian island of Tuvala, the royal couple, who are expecting their first-born in July, were given eight woven floor mats, three pairs of hand-woven fans and a commemorative stamp album among a host of items.
In Malaysia, Her Majesty Raja Permaisuri Agong gave Kate six pairs of shoes, two clutch bags and a traditional dress.
His Majesty, The Yang di-Pertuan Agong, gave William a traditional Malaysian dagger and Kate a batik dress.
The prime minister offered William a yellow and white metal box while the PM's wife gave Kate a twin set of South Sea pearls.
Child-friendly gifts
Other items from Malaysia included 16 books, five DVDs and a CD. One person gave them a pot of chilli sauce and another contributed a jar of honey.
In Singapore, the first leg of the Duke and Duchess's journey, William was given clothes including a tie, a linen shirt and a pair of cufflinks.
The Singaporeans seemed to have divined in September that the couple would be expecting a baby even before it was officially announced and offered a number of child-friendly gifts.
These included a teddy bear, two traditional children's games and two soft toys. They were also given six children's drawings - perhaps as inspiration for the future prince or princess.
In the Solomon Islands, they were gifted with polo shirts, baseball caps, sarongs, jewellery, a carved club and a pair of bamboo flutes.
Not to be left out, the gifts Prince Harry received were also listed by the Palace. During his 2012 overseas tours, he was given 69 presents, including rum, a mask, a friendship bracelet and a personalised 'HARRY' number plate.