A memento from the Duke and Duchess of Cambridge's lavish 2011 royal wedding has sold for $1,250 (£810.51) in Los Angeles. A menu card from a guest of the royal nuptials sold at the Nate D Sanders Auctions on 29 October.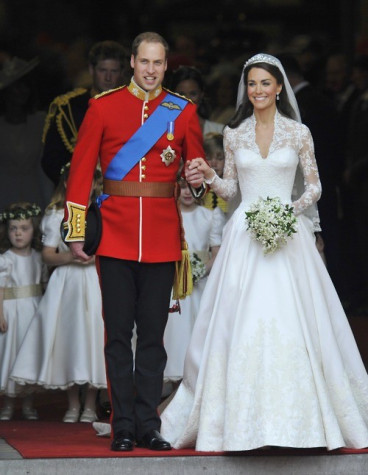 According to Hello Magazine!, the ivory cardstock menu includes a floral green border and gold trim and features Prince Charles's heraldic badge of three white ostrich feathers emerging from a gold crown baring the German phrase "Ich Dien" (I serve). The lavish menu also features what appears to be a coffee or food stain towards the bottom.
Prince William and Kate Middleton's wedding ceremony was witnessed by millions around the world, but their wedding reception was relatively private with 300 guests. The auctioned menu revealed what lucky guests dined on during the 29 April 2011 event.
The meal started off with a marinated South Uist salmon, Lyme Bay crab, wild Hebridean langoustines and fresh herb salad. The main dish featured saddle of North Highland Mey Select organic lamb, Highgrove spring vegetables, English asparagus, Jersey Royal potatoes and laugh Windsor. Guests then were served a trio dessert of Berkshire honey ice cream, sherry trifle and chocolate parfait. Each dish was paired with a different wine.
The royal couple, who celebrated their fourth wedding anniversary in April, are the proud parents of two young children. Two-year-old Prince George, who is third in line to the throne, is the older brother of six month old Princess Charlotte.