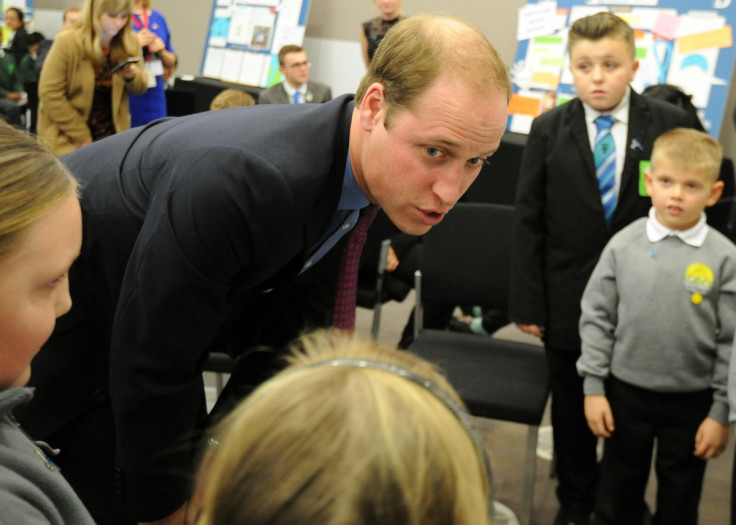 Prince William took part in an anti-bullying workshop on 7 December, meeting children in an activity designed to identify differences. The 33-year-old royal father of two attended The Diana Award event hosted by singing coach Carrie Grant at Bournville College in Birmingham.
In one event, William and the children were asked to write down something that "defines you." Grant told PEOPLE Magazine: "I was fascinated by what he might write and how daring he would be. I thought he might write, 'My mother died,' because that's in the public arena and does make him different amongst his peers. And Harry's been talking a little bit about that in the press."
Instead, William chose to write: "I am a Prince." Grant said: "But I love the fact that in a way he did challenge us, because no one else in the room could say that. We all think, 'Aren't you lucky?' But that comes with responsibility and a load of other things he's had to process and journey through. There are challenges to that."
According to PEOPLE, the exercise was just one of the activities of the day, which also included a monologue by 10-year-old Shahzaib Ali Butt. "I was telling him bullying is wrong and young people have the chance to change the world, and everyone's feelings," the boy said about the royal. "It's amazing he came here."
The Diana Award's anti-bullying campaign head, Alex Holmes, told the magazine that William is involved in contributing his own thoughts as a young parent. "But also he's interested in the role young people can play and social media. That's really impressive, in terms of his understanding of the issues facing young people and all of us growing up in the digital age."
Following the activities, the royal was shown a composite photograph made of photos of himself, some young people, Holmes and charity chief executive Tessy Ojo. "It's an incredible image," Ojo said. "It says we are one, a symbol of our unity. That's what we want young people to go away with. It is ultimately one head made up of different parts."
According to Kensington Palace, there are more than 16,000 anti-bullying ambassadors trained by The Diana Award in 3,000 schools in the UK and Ireland. The Diana Award was established in the name of William's late mother, Princess Diana.