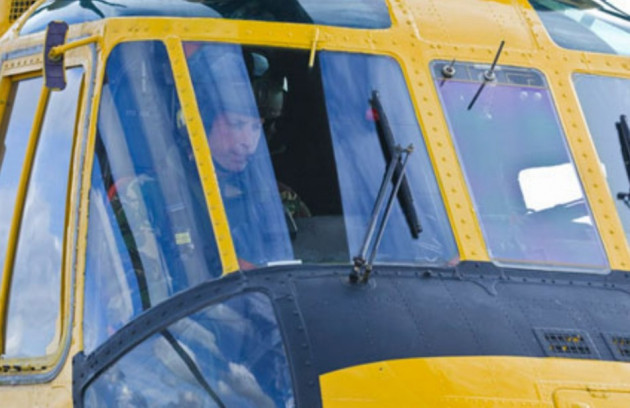 A 41-year-old dog walker from Blackpool is believed to be dead after being swept out to sea in the early hours of New Year's Day.
The man was walking his dog when a wave washed him and a friend into the sea near the South Shore Pier.
The friend managed to climb ashore but the 41-year-old did not emerge, police said.
Another man raised the alarm and a search was launched by Lancashire police and the coastguard.
Prince William and the RAF crew in Anglesey are among those who have been involved in the search operation. The Duke of Cambridge and three of his Sea King crew mates were initially dispatched in the early hours of New Year's Day, but had to turn back due to the high winds.
Stuart Atkinson, watch manager at Crosby Coastguard station, said: "The area was searched and unfortunately we didn't find the 41-year-old male at that time.
"We do believe a life ring was thrown to him and a football. We have located the football but not the life ring.
"We must presume the man went into the water and there is nothing to suggest at this stage that he made it to shore. We are now in the process of searching the shoreline for a body."
The search was called off last night and resumed this morning. Coastguards said it was "highly unlikely" the man has survived.
Lancashire Police said the man fell while walking along the steps that lead from the promenade to the sea. A statement said: "Despite waterline searches his body has not yet been recovered."
Atkinson said the initial search operation had been hampered by gale force winds: "Westerly winds are aimed straight at the sea shore at Blackpool and it made it quite difficult for the lifeboat crews to search."