Prince's $10m (£6.9m) Paisley Park home is to be turned into a museum celebrating the life and work of the music icon, it has been confirmed. Following the sudden death of the 57-year-old on 21 April, the compound where he lived for three decades and recorded much of his music, has become a focal point for his fans who have converged on the site to pay their respects and leave tributes for the Purple Rain singer.
The singer's brother-in-law Maurice Phillips, said that a museum would be a fitting memorial for the artist who was loved by millions. "We will turn Paisley Park into a museum in Prince's memory," he told the Sun: It would be for the fans. He was all about the fans - this would remember his music, which is his legacy."
Phillips, who is married to Prince's sister Tyka, said while the singer was a notoriously private man, who lived in near seclusion at the mansion, he would have wanted his life's work and his music to be remembered.
According to a close friend of the singer and collaborator Sheila E. while Prince had left no known will, he had always intended for Paisley Park to be opened up to his fans.
She told Entertainment Tonight that plans had already been in the works: "We're hoping to make Paisley what [Prince wanted] it to be. [He] was working on it being a museum. He's been gathering memorabilia and stuff from all the tours, like my drums and his motorcycle. There's a hallway of his awards and things, which he really didn't care about too much, but he displayed it for the fans because he knows that they would want to see it. There's pictures of him all down the halls, some you've seen before and some never [seen]... There's a mural on the wall with his hands out and on one side is all the people he was influenced by and the other side is all of us who have played with him... It's beautiful."
While only close friends, family, fellow musicians and the occasional journalist have set foot inside the compound the musician offered rare access to his home two years ago when fans were given a virtual tour of the complex which comprises a 10-man wardrobe, where the singer's iconic stage costumes were stored. The compound has its own recording studio where many of the musician's guitars were on display, and a rehearsal room.
The lavish 50,000 sq ft studio complex reflected Prince's flamboyant style with plush velvet sofas and the walls painted like the sky, adorned with gold discs. A glass pyramid on top of the sprawling complex, was bathed in purple lighting when the star was home. It also contains a vault which is believed to contain thousands of unreleased recordings by the singer.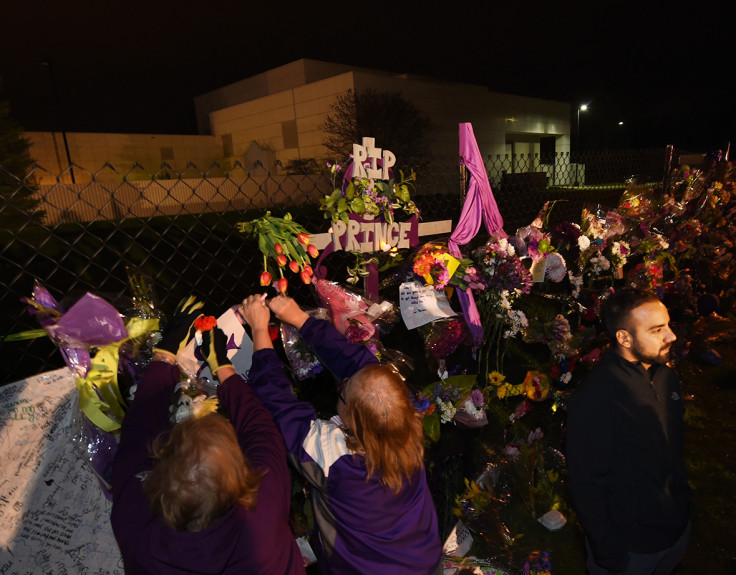 It's thought the Chanhassen, Minnesota, property could become a place of pop pilgrimage for fans of the music icon, much like Graceland . Following the death of Elvis Presley in 1982, his opulent home was turned into a museum housing costumes, cars and personal effects of the King of rock and roll, attracting more than 600,000 visitors a year.
According to CNN, Denny Laufenburger, the mayor of Chanhassen, told KMSP Paisley Park could become a permanent memorial to the singer providing the idea is supported by the singer's family.
"What's important to me is that we listen to the family's wishes, because they will be reflecting what Prince wanted, and we do what we can as a city to accommodate the safety of our citizens, the safety of our visitors," he said.
The 57-year-old was found "unresponsive" in a lift on his Paisley Park estate on Minneapolis, Minnesota on Thursday 21 April. He was pronounced dead at 10.07am.
While suicide was ruled out, it will take several weeks before the results of the toxicology tests could narrow down the cause of death. Prince was cremated following a private ceremony at a Minneapolis funeral home within a week of his death, in accordance to his Jehovah's Witness faith.
While plans are underway for a memorial concert to be held in his honour, the news that the elusive star's home might be opened to the public is some source of consolation to his fans around the worldwide who continue to mourn his loss.