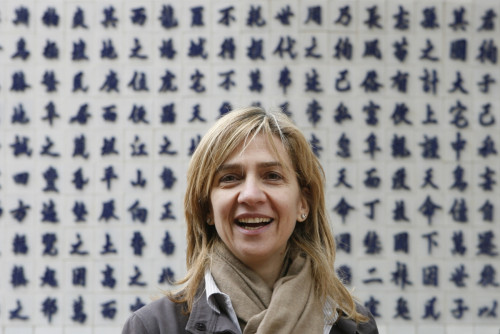 Spain's Princess Cristina has testified as an official suspect in a Spanish court investigation into money-laundering and tax-evasion claims.
Her husband Inaki Urdangarin is alleged to have defrauded regional governments of millions of euros in public money. This is the first time that a member of Spain's royal family has appeared in court as the subject of a criminal investigation.
Judge Jose Castro has named the princess as a fraud and money-laundering suspect.
Princess Cristina, who is seventh in line to the throne, arrived at court on Saturday in Mallorca without commenting to TV press and media. There were almost 400 reporters outside the court and around 200 police officers.
The court gave the princess special permission to be driven to the courthouse door, citing security reasons.
The decision sparked public outrage because it allowed the princess to avoid hundreds of television cameras and triggered a debate over whether she has been given favourable judicial treatment.
Pro-republican campaigners demonstrated outside the court.
The allegations centre around a not-for-profit organisation called Noos, of which Inaki Urdangarin was president.
The foundation staged a series of sporting events for the regional governments of the Balearic Islands and Valencia. Urdangarin is accused of organising the events at hugely inflated prices, and alleged to have received a total of £4.6m in public money.
Princess Cristina is suspected of spending some of that money on personal expenses. According to a document signed by the judge, some of the money was spent on trips to South Africa's Kruger National Park and Mozambique, tickets to Rome's Olympic Stadium. Home refurbishments, a 1,742-euro crockery set and 1,815 euros of children's furniture were also charged to the company.
"I'm a monarchist, but if they have done wrong they should return what they stole and be exposed just like the rest of us," Angel Rodriguez, an 80-year-old pensioner told a Reuters reporter.
Cristina's lawyer Miquel Roca told TV crews and reporters that the princess is "absolutely convinced of her innocence."
Support for the monarchy as a system of government in Spain fell to 49.9% in December compared with 53.8% a year earlier, according to a poll published in El Mundo newspaper.