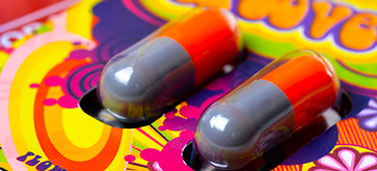 Prison authorities will be given greater powers to fight the use of so-called legal highs. (NHS)
BBC
Prisoners caught using 'legal highs' will face longer terms in jail, isolation, and removal of privileges, after a surge in the use of the substances in jails.
Chris Grayling, the justice secretary, has drawn up plans for prison authorities to be able to test inmates for the use of legal highs, and said that use of the substances might be responsible for a surge in prison violence, and injuries to prison officers.
Though the use of the substances, which mimic the effects of illegal narcotics, is not illegal outside jail, they are banned in prison.
Grayling described use of the substances as a "new phenomenon".
He added: "What we're also hearing is that these substances seem to be part of the problem around increasing violence in our prison estate.
"No one should be under any illusion how dangerous the abuse of any drug is. We are determined to make sure governors have every power at their disposal to detect supply, punish those found using or dealing, and enforce a zero tolerance approach."
Under the rules, prisoners found guilty of smuggling legal highs into jail could be banned from physical contact with their children and families during visits, have 42 days added to their prison sentence, be confined to their cells for up to 21 days, as well as having privileges forfeited.
Figures reveal a four-fold increase in the seizure of legal highs in prisons in the last four years, from just 16 in 2010, to 436 in 2014, reports Sky News.
Legal highs including Spice or Black Mamba, are difficult to detect when smuggled into jail, and sniffer dogs will receive special training to detect them.
This week, the Ministry of Justice will send new legal guidelines to prison governors, outlining the action they can take to combat the spread of so-called 'new psychoactive substances' in jails.