A controversial sheriff known for his outspoken support for US President Donald Trump has allegedly harassed a fellow passenger, who was on the same flight as him from Texas to Wisconsin in January.
Dan Black has alleged that Sheriff David Clarke harassed him for asking a question – if he was the sheriff – after boarding a flight from Fort-Worth Dallas, Texas, to Milwaukee, Wisconsin, on 15 January.
In response, the pro-Trump officer only shook his head and asked if he had any problem with that, Black alleged. He was later detained, questioned and escorted out of the airport upon arrival by several officers in uniform and a police dog, he added.
According to federal records, Clarke had also allegedly sent a text message to a police official ordering him to follow Black to the baggage counter at the airport.
The Milwaukee County sheriff reportedly texted Captain Mark Witek, saying: "Just a field interview, no arrest unless he becomes an asshole with your guys.
"Question for him is why he said anything to me. Why didn't he just keep his mouth shut. Follow him to baggage and out the door. You can escort me to carousel after I point him out."
Clarke alleged that Black stood over him in a "physically threatening manner". Clarke's lawyers have also claimed that Black stared long at him before he "shook his head at him for a prolonged period of time".
An inquiry into the incident had been launched but federal investigators said earlier in May that they would not criminally prosecute any civil rights offences, the BBC reported.
But Milwaukee County auditors are probing whether Clarke abused his powers by ordering Black's alleged detention. Clarke has reportedly refused to cooperate in the probe, saying it's a "fake investigation".
The Milwaukee County Board has also asked auditors to spend up to $35,000 (£27,324) to sue Clarke for blocking the investigation — a matter that is now on hold.
"As news developed about the sheriff's likely departure from county service, we put the matter on pause. Our hope would be that if the sheriff leaves, his replacement would be more willing to give us the access we need to do our job," county auditor Jerry Heer said.
Who is David Clarke?
The current sheriff of Milwaukee County, Wisconsin, Clarke is a gun rights advocate and vocal critic of the Black Lives Matter movement, which he described as "Black Lies Matter". He accused the movement of being a hate group.
He made headlines in 2016 when he spoke for then-Republican presidential nominee Trump and also held campaigns for him around the country. He had said during the campaigning that he would "do everything I can" to help Trump win the presidency.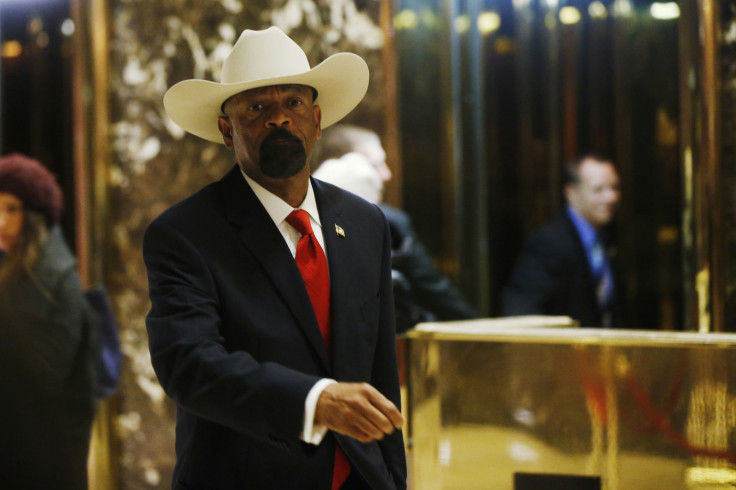 Clarke has been repeatedly accused of abusing detainees at the county jail he oversees. The jail had come under scrutiny for the deaths of four inmates in 2016.
It was reported that he might possibly be appointed as a top-ranking Homeland Security official, but the White House has not confirmed the appointment. Also over 50 Democratic House of Representatives members have urged Homeland Security Secretary John Kelly to reject his possible appointment.
Clarke has also been accused of plagiarising portions of his master's thesis on homeland security. However, he has denied the allegation.