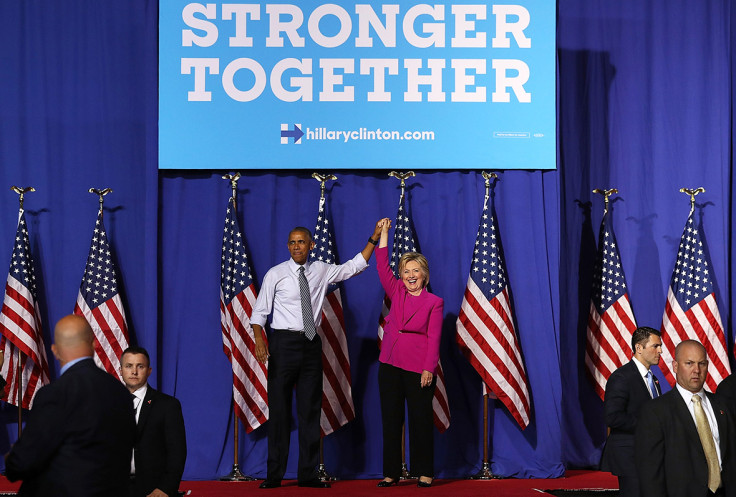 A new campaign ad by a pro-Trump super PAC falsely suggests Hillary Clinton is a white supremacist and Barack Obama believes voting a straight Democrat ticket is selling "our soul for a Christmas turkey".
The ad, by the Great America PAC, uses comments made by both the president and Democrat nominee, taken completely out of context in an attempt to encourage minority voters to back Donald Trump.
It features a clip of Clinton stating "I believe in white supremacy", which was part of her speech against the school voucher programme in which she imagined a situation where a parent wanted to send their child to the "School of the Church of the White Supremacists".
Set to be played on radio stations in Florida, Illinois, Pennsylvania, Ohio, North Carolina, Wisconsin, New Hampshire, Minnesota and Michigan for a week test-run, the ad also features President Obama reading an extract from his book Dreams of my Father, which the ad claims is a message from the president.
It appears to show the president stating voting straight Democrat is selling "our soul for a Christmas turkey" and discussion "plantation politics", whereas he is actually reading an extract from the book in which he is quoting a barber.
It is believed the super PAC hopes the act will play well with minority voters, who have thus far not flocked towards the GOP candidate
"George W. Bush successfully targeted messages to Hispanics and African Americans during his 2000 and 2004 election wins," Aaron Manaigo, senior adviser to the super PAC, told Buzzfeed.
"However, this type of micro messaging is outside the norm for this election cycle."
The super PAC is also reportedly planning a TV ad that uses voice clips from the 2008 primaries, in which Obama laid into Clinton for "playing politics".