Project Mosul: Archaeologists revive heritage destroyed by Isis with 3D museum online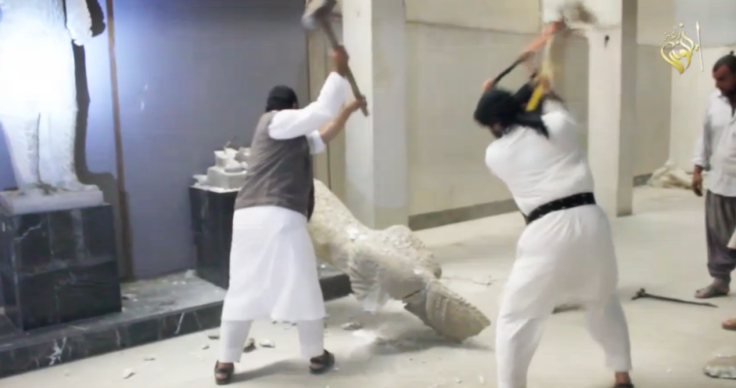 A group of archaeologists have decided to fight back at Islamic State (Isis) by recreating ancient artefacts destroyed by the jihadi group in a virtual museum.
Project Mosul was launched after IS released a shocking video showing its militants storming a museum in Iraq's second largest city, taking pickaxes and sledgehammers to Assyrian statues dating back up to the 7th century BC. The attack was described by Unesco as a "cultural tragedy".
Now, using crowdsourcing and digital skills, a group of volunteers aim to recover the lost heritage by turning simple tourist photos into 3D reproductions of the destroyed artefacts.
"To see someone walking around a museum with a sledgehammer was heartbreaking to say the least," Project Mosul coordinator Matthew Vincent told IBTimes UK.
Vincent, a 34-year-old PhD student from Washington started the project with his colleague Chance Coughenour, 30, from Pennsylvania, earlier in March under the supervision of Dr Marinos Ioannides from the Cyprus University of Technology.
The two archaeology graduates are fellows at the Initial Training Network for Digital Cultural Heritage (ITN-DCH), an EU-funded initiative headed by Ioannides for the study of ways to apply technology to heritage preservation.
Upon seeing the IS video, they launched an appeal for pictures of the destroyed artefacts and volunteers to help them create an online version of the pillaged museum.
Coughenour admitted they were surprised by the positive response. "People from different backgrounds, someone from the gaming community, others with more of a computer vision or a science background showed interest in joining," he said.
"The very graphic video that IS posted has triggered people's understanding of how precarious heritage is in this danger zones," Vincent said . "Unfortunately most people's response is 'We do not have any photos'."
Recent digital images from the museum are hard to get as it has been closed to the public since the US invasion of Iraq in 2003.
The duo, nevertheless, received a consistent batch by several people, including a US colonel who visited archaeological sites in the country as part of an army effort to evaluate the Iraqi cultural heritage after war.
Using just over a dozen shots and about an hour of work, Vincent and Coughenour were able to create a virtual model of a lion statue smashed by the jihadists.
"We are getting surprisingly amazing results from very few photos. The lion was reproduced using 16 photos," Vincent said. "At the same time you can see there are big gaps because we just don't have the photographic coverage of those areas."
The piece is the first of a series they wish to put back at their place in a 3D reconstruction of the Mosul museum, which is being worked on by one of their colleagues.
They said the digital building will soon open its doors to netizens, allowing them to tour its rooms like in a computer game.
The archaeologists hope their work will help future restorations and raise public awareness on the importance of safeguarding heritage for future generations.
Mosul is in the centre of 1,791 registered archeological sites, including four capitals of the Assyrian empire - Nineveh, Kalhu, Sur Sharrukin and Ashur, many of which are in IS-held territory and thus at risk or have already suffered a similar fate to the Mosul museum.
Earlier in March, the Iraqi government said the jihadist group bulldozed the remains of the ancient cities of Nimrud and Hatra.
The latter's mix of Hellenistic and Roman architecture with Eastern decorative features attested "to the greatness of civilization", according to UNESCO, which described the flattening of the two sites as a "war crime".
Vincent and Coughenour said Project Mosul aims to recreate not only the museum but all that is being destroyed by in the area. To do so, they said they need a lot of photos and all the help they can get.
"Whatever your skills might be there might be something for you to do here," Vincent said. "But right now we could desperately use some more programmers."
Find out more about Project Mosul and how to contribute to the cause.
© Copyright IBTimes 2023. All rights reserved.