Influential San Francisco Catholics have taken out a full-page newspaper advertisement, pleading with Pope Francis to remove the city's controversial archbishop for fostering an "atmosphere of division and intolerance".
Conservative Archbishop Salvatore Cordileone, appointed to the progressive city by former Pope Benedict, has clashed with San Francisco's active gay community, and has required lay teachers in Catholic high schools to agree to "morality clauses" to uphold church teachings. The new code characterises extra-marital sex and homosexual relations as "gravely evil".
The open letter, published in the San Francisco Chronicle, said that the school move "sets a pastoral tone that is closer to persecution than evangelisation". Hundreds of teachers, parents and students last month marched in San Francisco to protest the morality code requirement.
"Upon threat of losing their jobs, he coerces educators and staff in our Catholic high schools to accept a morality code which violates individual consciences as well as California labour laws," the letter states.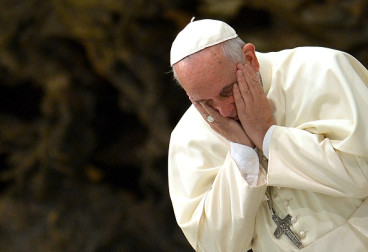 Among the 100 prominent Catholics who signed the letter were Tom Brady Sr., father of often-praying New England Patriots star quarterback Tom Brady, Brian Cahill, the retired executive director of Catholic Charities, and Charles Geschke, chairman of Adobe Systems and former head of board of trustees of the University of San Francisco.
"Holy Father, please provide us with a leader true to our values and your namesake," the leaders plead in the letter.
The archdiocese said the letter was filled with misrepresentations. "The greatest misrepresentation of all is that the signer presume to speak for 'the Catholic community.' They do not," said the statement.
The letter also attacked Cordileone for naming a pastor to an elementary school who banned girls as altar servers at Mass, and distributed a pamphlet to children that suggested they ask themselves before confession if they had ever considered suicide, had an abortion or performed "impure acts".
The missive also accuses Cordileone of harming the Catholic community by adopting a "single-issue agenda" against same-sex marriage.
"It seems he is going in a direction that is completely opposite where Pope Francis is going and creating an atmosphere of complete intolerance," attorney Frank Pitre, who signed the letter, told the Chronicle. "Hopefully, this is going to get someone's attention.''