Protesters to oppose Israel Prime Minister Netanyahu visit to London
The Israeli PM is to meet Theresa May after ignoring a UN resolution on illegal settlements.
Campaigners have organised a protest against Israeli Prime Minister Benjamin Netanyahu's visit to London on 6 February.
Crowds will gather near Downing Street as the leader meets British Prime Minister Theresa May.
Their meeting comes at a testing time for the Israel-Palestine peace process with Israel's illegal settlements in occupied Palestinian land growing at an increasing rate.
In a historic move, the United Nations Security Council passed a resolution on 23 December which condemned Israeli settlements as a "flagrant violation under international law" after the United States chose not to exercise its veto power.
The US ambassador to the UN at the time, Samantha Powers, said America let the resolution pass due to the "facts on the ground" – namely, the rapid growth of the illegal settlements jeopardising the peace process.
In response, Netanyahu reacted angrily to the resolution, labelling it as "shameful", and summoned every Israeli ambassador to countries involved with the vote to Tel Aviv.
Netanyahu also reportedly cancelled his planned meeting with May at the World Economic Forum in Davos with May following how Britain voted on the resolution.
He has also indicated he will ignore international law as thousands of new settler units have been approved since the passing of the resolution.
The UN, the UK and the US have all issued statements advising against the construction of new settlements, but it is unlikely Netanyahu will change his position unless more political pressure is applied.
Campaigners attending the protest, organised by Palestine Solidarity Campaign UK, branded Netanyahu as a "war criminal".
The protest and meeting between May and Netanyahu come as MPs are due to debate Israeli settlements on 9 February in the House of Commons.
They will debate a motion which, "calls on the government of Israel immediately to halt the planning and construction of residential settlements in the Occupied Palestinian Territories which is both contrary to international law and undermines the prospects for the contiguity and viability of the state of Palestine".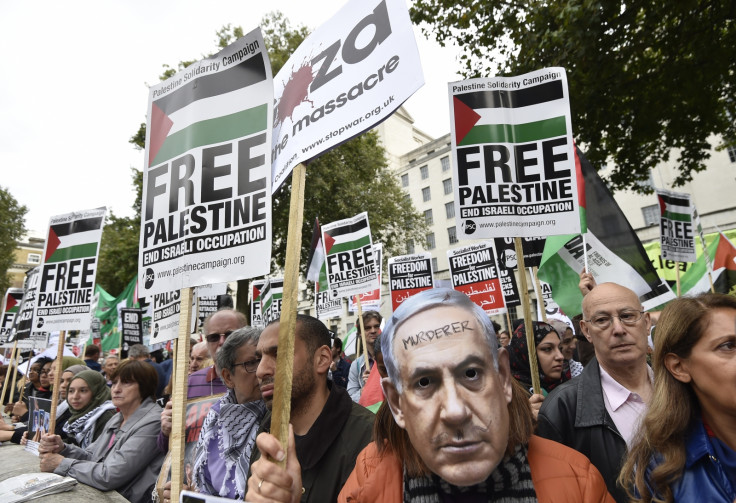 © Copyright IBTimes 2023. All rights reserved.