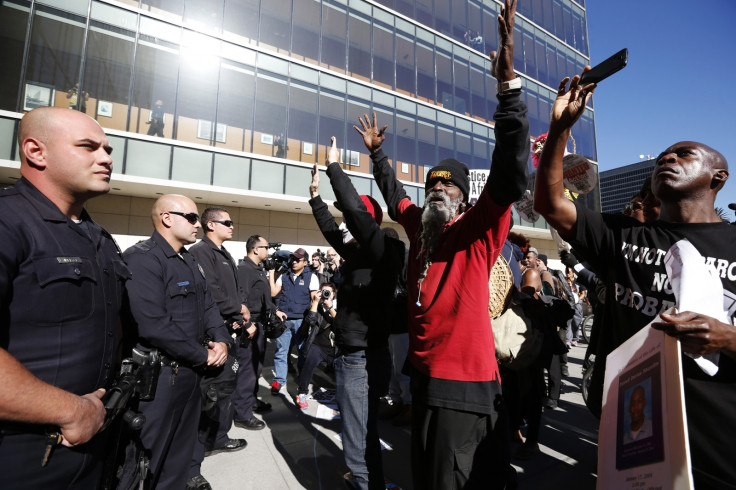 Over 100 protestors marched to Los Angeles police headquarters over the fatal shooting of a black man living on skid row by police.
Many were scathing over what they called the problematic policing of skid row which is populated by homeless people according to the LA Times.
There was a moment of silence, and one participant said the shooting site should be called "sacred ground."
A memorial at the site of the shooting had white roses placed over a tent, blankets and clothing belonging to the man known as "Africa."
Some of the protestors heckled Chief Charlie Beck and Commission President Steve Soboroff. Shouts of "cowards" went up as he repeatedly blew a whistle into the microphone to get their attention.
Soboroff asked the crowd not to rush to judgment, asking them to wait for more information from investigations by the LAPD and the district attorney's office.
"This is a different tragedy than the incidents in Ferguson and the incidents in New York," Soboroff said. "LAPD is not the same police force."
"It's worse," one woman shouted back from the audience.
Anger was palpable as demonstrators filed out, chanting, "Black lives matter" interspersed with "Homeless life matters".
It was revealed that the homeless man, Charley Robinet, was released from prison last May after serving 14 years for bank robbery, said a law enforcement official.
Robinet was a French national who was convicted in 2000 of three federal charges for holding up a Wells Fargo branch and pistol-whipping an employee to pay for acting classes at the Beverly Hills Playhouse.
But one protestor, Earnest Freeman, said it made no difference that Robinet was convicted of armed robbery 15 years ago.
"If this man committed a crime, police didn't know that at the time, and there's a certain way to handle that," he said.
39-year-old Robinet was killed on Sunday after an altercation with police. It's claimed he tried to grab a probationary officer's gun and three officers fatally shot him.
"You can hear the young officer who was primarily engaged in the confrontation saying that 'He has my gun. He has my gun,'" said Police Chief Charlie Beck. "He says it several times, with conviction."
The three other officers then opened fire.
The recently-hired officer, who is black, was just short of completing his probationary year on the force, according to an AP report.
The police version of events was disputed by the bystander who filmed the video of the shooting. Anthony Blackburn said in a CNN report that he didn't see the homeless man reach for the policeman's gun.
Blackburn said he was puzzled that four officers could not subdue the man but shot and killed him instead.
Why didn't they simply "shoot the man in the leg?" Blackburn asked. "He's already on the ground."